This post is part of my 2017 New Year's Resolution to try every group fitness class offered at my gym, The Equinox in Chestnut Hill. See the full list of reviews here.
PROGRESS: 43 CLASSES DOWN, APPROXIMATELY 3 TO GO (CLASS OFFERINGS SOMETIMES CHANGE)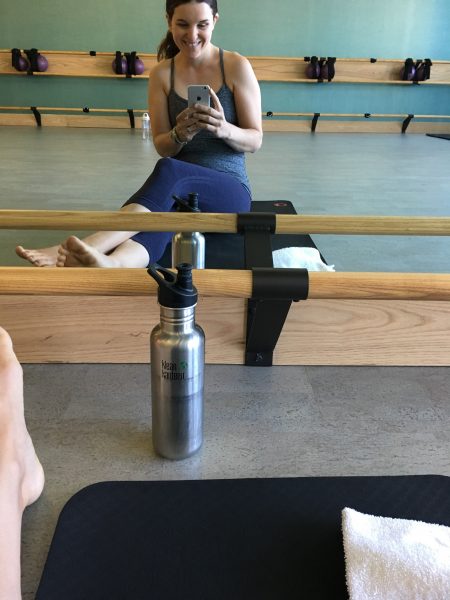 On Monday I took my last Barre class for this New Year's Resolution with new-to-EQXChestnutHill instructor Katie Curley. She was fabulous, giving very precise instructions and with a nice way of telling us when efforts were almost over so we could stick it out knowing a new muscle group was next. She's on the schedule for Wednesday night Pilates; try one of her classes if it works for your schedule. She came recommended by Cheryl Bentsen, who would know.
Equinox Chestnut Hill has 6 types of Barre classes, so rather than re-hashing yet another "and then we pulsed, pulsed, pulsed" review, I thought it might be more helpful to give a concise overview of the different Barre classes for anyone interested in Barre who isn't sure where to start. Links to go full recaps of each class.
What is Barre?
All barre classes use isometric movements (focusing on specific muscle contractions while holding the rest of the body still) and repetition of those movements in order to build strength. Props often include light weights, a ball that can be squeezed between the legs to work muscles, and the barre itself for balance or stretching. Barre classes target many different muscle groups as well as incorporating balance and flexibility exercises.
The 6 Different Barre Classes at the Equinox
Barre: A standard Barre class with freedom for the instructor to teach their own lesson plan (vs. True Barre which is a set formula prescribed by Equinox). These classes may be very similar to True Barre, but there's more flexibility and variation based on who's teaching.
Barre Essentials: A condensed 45-minute introduction to Barre. Limited class offerings, designed for newcomers to Barre to learn the basics from an instructor in a smaller class setting doing fewer reps of exercises with more time for questions.
Barre Trilogy: A barre class that uses resistance bands to isolate all the different muscle groups. Great because class size is capped at slightly smaller than Barre (because everyone needs their own space with hooks on the wall) and because you can very easily tweak the difficulty level by reducing or increasing the tension on the bands.
Gold Barre: A skating inspired barre class that has some jumping warm-ups and incorporates more cardio than other Barre classes. Fun for unleashing your inner gymnast, because even the exercises at the barre are directly inspired by different movements an ice skater would turn into jumps or spins on the ice.
Lean Line: A ballet-inspired class with floor work that included port de bras, tendu, plié and frappé sequences. Taught in the yoga studio, this is the one barre class with no barre. For those who are interested in ballet and expected the standard barre to have more obvious ballet influences, this is a great class.
True Barre: A barre class that follows an Equinox prescribed formula to provide a similar experience whether you're taking it at Chestnut Hill, NYC or California. Exercises may vary slightly, but there's a method designed to make sure people get a full body work-out that feels similar across the Equinox clubs.
I would recommend Barre classes to anyone looking to strengthen muscles in a low-impact and relatively gentle way. Newcomers to strength training may find that a Barre class is easier for them to find the "just right" level of difficulty and just rest when needed vs. jumping into a strength training class where you're trying to choose the right weights to lift. You'll still find barre class challenging if you're at a high level of fitness, you'll just be able to sink lower into your plié and make it through that last pulse without a break.
Looking back at these classes, I wouldn't hesitate to take any of them again.
Barre offers some similar benefits to yoga and pilates in terms of low-impact strength and flexibility training that primarily uses your body weight and repetition to build muscles. People looking for variation in their routine who like those classes may enjoy Barre.