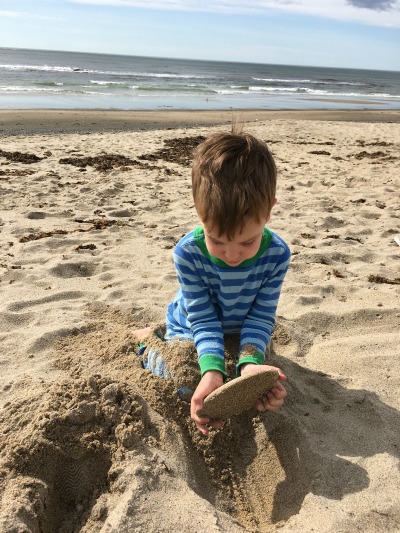 Thanks to everyone who commented, tweeted or e-mailed me about my plantar fasciitis. I've been following my doctor's advice by wearing sneakers around the house and doing stretches and exercises 3 times a day for it.
I've also done some additional reading based on suggestions I've received. The pain is less constant and I'm feeling really hopeful.
The kids are on April break so we're in Maine spending time with family and the ocean. Is there anything cuter than kids in pajamas on the beach? Maybe, but nothing I've seen today.
I'm hoping to rest my feet here for the week with only moderate exercise, and then get back to classes and swimming next week. My doctor said I should stick to classes where I can wear shoes for now, so Cardio Sculpt is next on my class list.
Hope you're having a good Marathon Monday! I'm amazed thinking of all the energy, passion and dedication that goes into preparing for that race, trying to qualify or raising enough money for a charity spot, and then actually running the challenging and crowded 26.2 mile course.
I like to think of those incredible people when I hit a challenge in my own life.
It gives me hope because it reminds me we are capable of accomplishing so much.