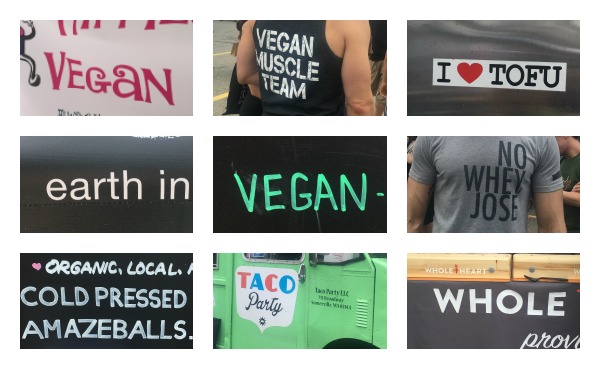 Had a great time today at the Boston V Party vegan food and craft beer festival held at SoWa in Boston. It was hosted by Taco Party, a vegan food truck and catering company that makes some pretty delicious tacos.  Sweet potato or sriracha bbq jackfuit taco, anyone? (I so want them to cater one of my birthday parties now – bucket list!)
It was nice to be surrounded by delicious food and other vegans.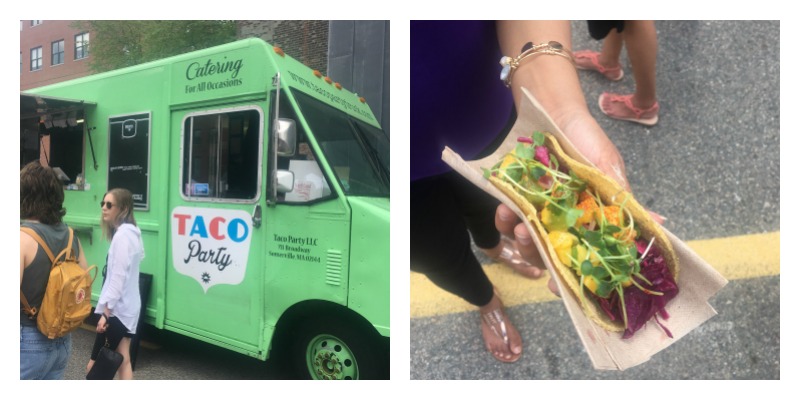 Vendors included:
FoMu ice cream, a delicious dairy free ice cream available at many Whole Foods and in their Boston area cafes.
HippieCakes Vegan Bakery, a vegan donut and baked goods company located in NH.
Veggie Galaxy, a vegetarian and vegan comfort food diner located in Cambridge.
Mother Juice, a plant-based juice, smoothie, and snack place with three Boston area locations.
Whole Heart Provisions, a vegan restaurant in Allston with divine looking rice, pilaf, arugula, or marinated kale based bowls.
Soy Much Brighter, a soy wax candle company.
Bootstrap Compost, a Boston area composting service that picks up your compost and drops off premium soil amendment in return.
Dosa N Curry, a vegetarian fusion restaurant featuring North Indian, South Indian, Indo-Chinese and Gourmet Pizza in Somerville, MA.
Prospect Ciderworks, a Boston based hard cider company.
v-dog, a vegan owned and operated dog food and treat company.
Taco Party, the vegan food truck that also offers catering. (Just seeing how many times I can say "Taco Party" in this post.)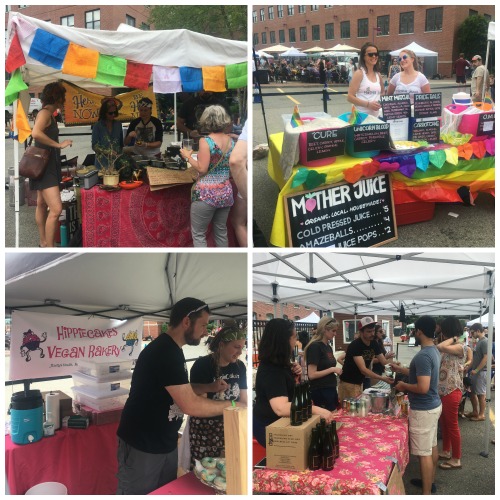 We also spotted some great vegan t-shirts, including another No Meat Athlete shirt! (My preferred racing gear.)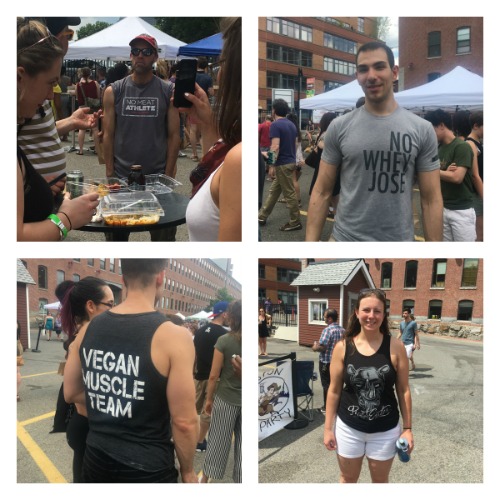 Vegan options are expanding and it's much easier to find a great plant-based option at more and more restaurants these days. But it's still a great feeling to walk into a festival where there are tons of vegan food options and you're surrounded by people who've also fallen in love with eating plants.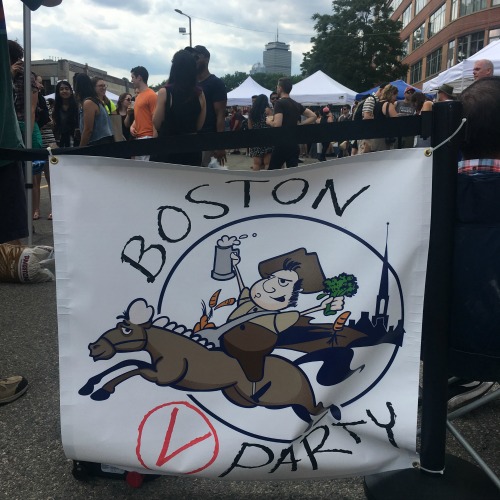 I wish I could always walk up to a food truck and get a vegan taco. That would be magical.
Sad you missed the fun? There are still opportunities all summer long to have beer outside and visit some food trucks!
SoWa Open Market is open every Saturday and Sunday, April 29-October 29, from 10am-4pm and while not every week features a Boston V Party, their Beer Garden with food trucks hosted by eatBoston at 540 Harrison Ave had a lot of plant-based options. We found vegan options at 4 different food trucks including Indian, Vietnamese and Falafel.
And speaking of love… proud of Boston today for a great #BostonPride event. You could hear the cheering blocks away 🙂 Love wins here.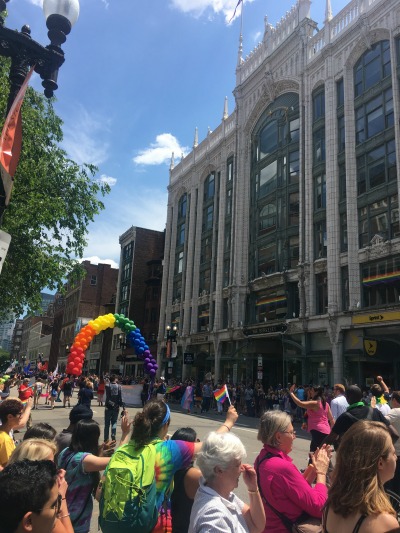 UPDATE 6/14: check out the Boston V Party video from Chris Hendrickson. It's a great view of the event and that's me waving at :59 🙂