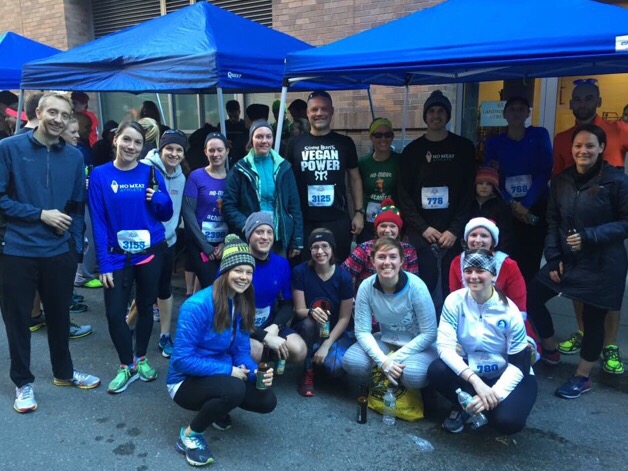 Ran With a Team! 
I ran a really fun 5k on Sunday with the No Meat Athletes of Boston team!
I joined my local No Meat Athlete group on Facebook, and it's been a great group for recipe sharing and workout swapping. Runners ask triathletes for their favorite pool workouts, I asked for advice on whether Cowspiracy was a safe documentary to watch while eating, people share funny vegan memes from veganstreet and beyond. The group also does weekly runs on Sunday mornings, which I haven't made it to, but when they signed up for a race, Greg and I were in!
The Cambridge Winter Classic is a fantastic race to run with a team, because groups of 20 or more got their own dedicated beer tent where we could ditch our non-valuables during the race, and grab some brews and socialize in a dedicated spot. I made vegan cookies to share with the team, and we all hung out for over an hour after the race having beer and cookies and socializing.
It was fun to be in a space where I wasn't "the runner" or "the vegan" or "the vegan runner"… because I was with a group of people who are also powered by plants and in love with running. All of a sudden, I was NORMAL.
As normal as someone wearing a tank top and mittens drinking beer at 10:08 a.m. can be, anyway.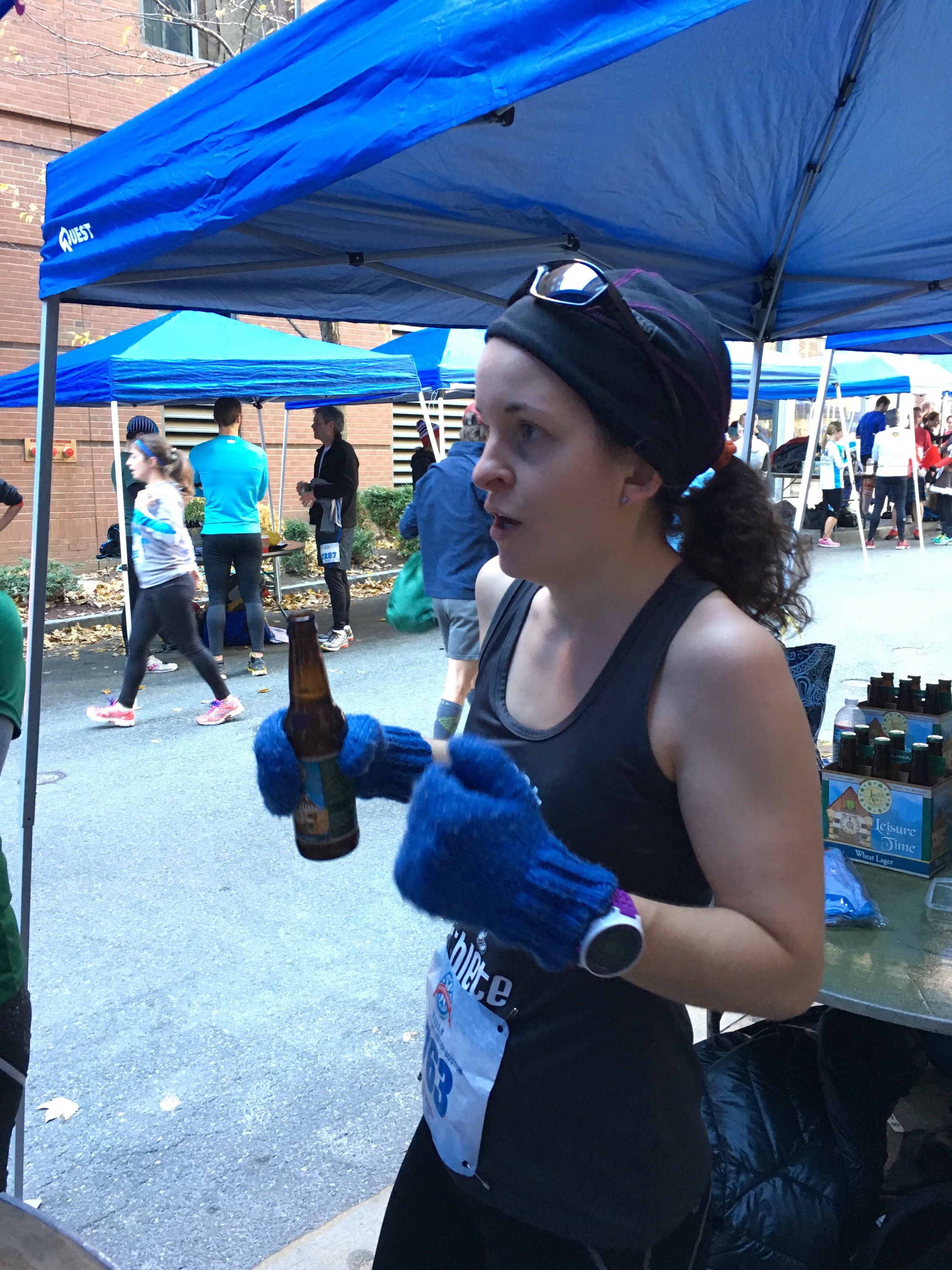 Winter Classic 5K Review:
I thought this was a great race. There were tons of runners, all of whom seemed to be there to have fun as a first order of business.
Parking: There was limited street parking, but garage parking was plentiful albeit expensive ($14-20 depending on duration of your stay).
Bathrooms: The garage was connected to a Star Market that had public restrooms, an easy stop on the way to registration, and portables were available near registration with relatively quick moving lines.
Price vs. Perks: The race was expensive; $35 was the best early registration price available with prices increasing closer to the date of the race. Most 5ks cost closer to $20. Even factoring in a guaranteed free beer or two, that's pricey. As a team member, though, I felt the $35 was well worth it. No lines for our beer, easy place to stash our extra layers prior to race start, dedicated space to socialize afterwards, it was fantastic. It was also just a fun experience. Even if you weren't a member of a team, the line for beer at the general beer tent seemed to be extremely fast moving and VERY generous with the amount of beer being distributed. It was a fun and festive feel to be hanging out in a crowded street of runners all enjoying a brew or two after stretching their legs with a nice 5k.
Course: Flat course but PACKED with runners. I started a little further back than I probably should have, and couldn't safely pass people through the crowd until it thinned out a little after the first mile. Speedsters starting at the front might find it a fast course. The average runner would be hindered by the crowds and is better off showing up to enjoy themselves and have a beer with a whole bunch of runners on a gorgeous December morning.
About the "5k" part: 
The lead police car took a wrong turn and accidentally extended the race course from 3.1 miles to 3.45 miles. This happens. It is not the race director's fault. For most of us, it's not that big of a deal; after all, we still got out and had a great run and finished off with some beers!
I was a little shocked to be finishing in over 31 minutes… but relieved when we received an e-mail apology from the race director explaining the mishap. So I ran a tie with my PR, according to Strava which took my best 3.1 out of the 3.45 miles and calculated it at 8:58 pace.
My overall pace was 9:04 for the race, which I was really happy with.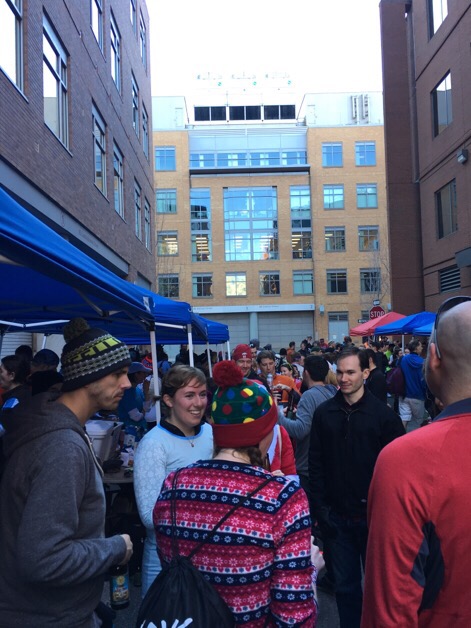 Hope you had a fabulous weekend also 🙂