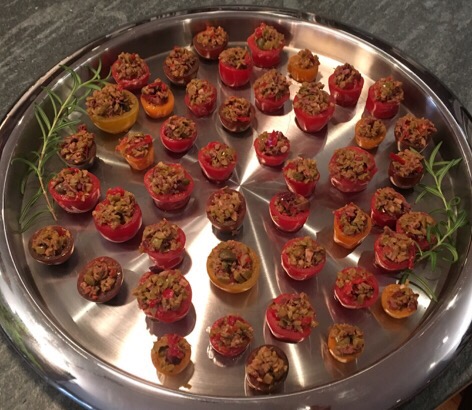 Olive tapenade stuffed cherry tomatoes, anyone?
I love appetizers. LOVE. They're such small individual commitments. You can have one of everything, experience tons of different flavors, and still have room for dinner.
Here are some fun ideas:
Olive, marinated artichoke and tomato platter
Roasted nuts and dried fruit
Cucumbers topped with white bean dip and herbs
Crackers topped with kite hill almond cream cheese and red pepper jelly
Hollowed out cucumbers filled with soba noodles (Oh yes. People find time to make them. I could make time to eat them.)
Fruit skewers
Vegetable spring rolls with peanut dipping sauce
Avocado and cucumber maki
Chips with guacamole and salsa
Warm pita with hummus and sliced tomatoes
Creamy spinach artichoke dip with toasted baguette
Need I go on? So many fun and delicious options to enjoy while mingling and talking before the meal!
Skimp on the shrimp: One thing to consider avoiding? The shrimp ring. Bottom trawling for wild shrimp yields about 30% shrimp. The other 70% of ocean life caught in the nets are discarded, dead, back into the ocean. So consider skipping the shrimp ring. If it really doesn't feel like Christmas without it, go for the smallest size and complement with lots of other choices. You can reduce your environmental impact by half if you cut your consumption in half, it doesn't have to be all or nothing!
Best wishes as you do your own menu planning whether you're celebrating Christmas or Channukah or just excited for New Year's Eve!