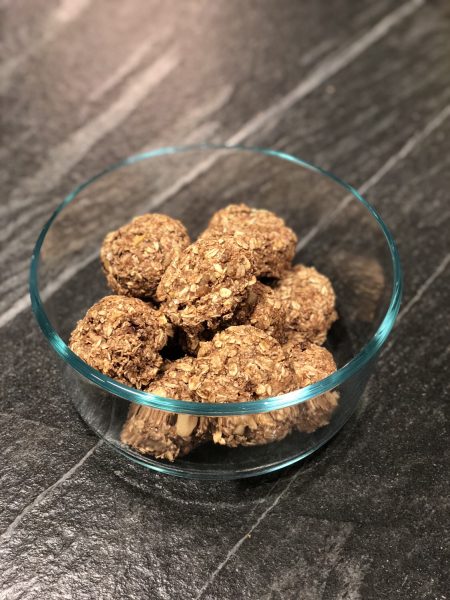 I just made a batch of chewy oatmeal, lemon, walnut and date cookies to eat for breakfast this week!
The recipe is from Forks Over Knives, and it's made with whole grain oats and no refined sugars. It's actually healthy, and not incredibly cookie like except for the soft, chewy texture that keeps it from being in the "power bar" category despite its similar ingredients. It's healthy tasting enough so one of my kids won't even eat it (I think I lost him when I didn't add chocolate chips) which means more for me.
I've been looking for a fast breakfast that I can enjoy with my coffee.
WITH my coffee is very important.
I love my morning coffee. LOVE. Real, genuine, think-about-it-the-night-before kind of love. It's one of the best parts of the day.
Hot, strong, black coffee.
Ahhh.
Which means I am not a morning smoothie person.
I want to be a morning smoothie person, but 2018 is the year that I accept that I am just not. I will not be starting off my day with a giant blend of leafy greens and flax seeds and self-satisfaction.
Because drinking a smoothie first thing in the morning ruins my coffee experience.
I can't have that.
So I'm making peace with the truth, and moving my smoothie ambitions to mid-afternoon, when I could really use a healthy snack to give me an energy boost for school pick-up through dinner.
Instead of thinking I'll get up in the morning and make myself a smoothie but then cradling my coffee and eating scraps from packing school lunches, I'm going to accept that I don't want a smoothie in the morning so I'd better make a different plan.
Something I can eat quickly, with limited preparation and dishes. Something that goes with coffee. Something I can make ahead. Something delicious, whole grain, with nuts and dried fruit for energy, and a zest of lemon to make me feel like I'm a grown-up.
Do you have a healthy practice, like smoothies for breakfast, that you've tried to embrace but failed? Maybe it's time to let it go and find a suitable alternative that works for you.
Like cookies.