I went to another class last night at the Equinox and you haven't even heard about it yet!
Why? I've had a busy and incredibly fun week prepping for the Sustainable Wellesley Booth upstairs at the Wellesley Marketplace! I've been helping to put together an eco-holiday gift guide and making furoshiki wrapping cloths from donated fabric remnants.
Today I got to go over to local artist Carolyn Mackin's gorgeous studio space and talk to her about our complimentary reusable cloth gift wrapping we're offering at the Marketplace! She'll be there selling artwork, her Self-Evolution Flag Collection, ornaments and more.
Check it out!
There are great furoshiki wrapping guides online, including this one.
Here's our blurb about the event!
Get your great Wellesley Marketplace gifts wrapped FREE onsite at the Sustainable Wellesley booth! Volunteers will be doing complimentary gift wrapping in upcycled Furoshiki cloths that you can reuse and regift for years to come.
Sustainable Wellesley is also giving away free Holiday Gift Guides for earth-conscious consumers. See eco-friendly gift ideas on display and walk away with a free gift guide tucked into a food-safe reusable cotton bag!
Find Sustainable Wellesley upstairs at the 41st Wellesley Marketplace THIS SATURDAY, Nov. 11th at Wellesley High School. Entry tickets available at the door or online here.
Huge thanks to Carolyn Mackin for talking Marketplace with me today, and for the beautiful piece of art she painted for our home. I love losing myself in its depths while I sip my morning coffee or chat with friends over a glass of wine.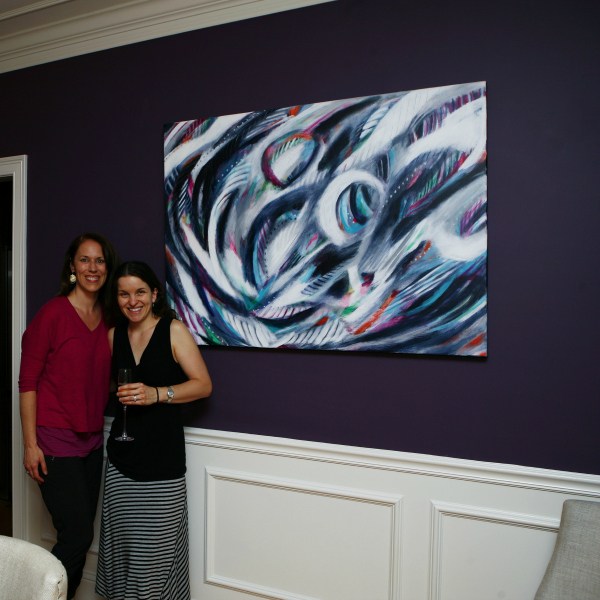 You may also like:
Non-Material Holiday Gift Ideas
Green Your Mailbox! Tips for Stopping Junk Mail
How Eating More Plants Can Help the Environment – Cowspiracy Infographic