This post is part of my 2017 New Year's Resolution to try every group fitness class offered at my gym, The Equinox in Chestnut Hill. See the full list of reviews here.
PROGRESS: 40 CLASSES DOWN, APPROXIMATELY 6 TO GO (CLASS OFFERINGS SOMETIMES CHANGE)
Want to join me for some of my last new classes?
This week I'll be taking Whipped! on 11/7 and then Boot Camp on 11/9! Say hi if you're there 🙂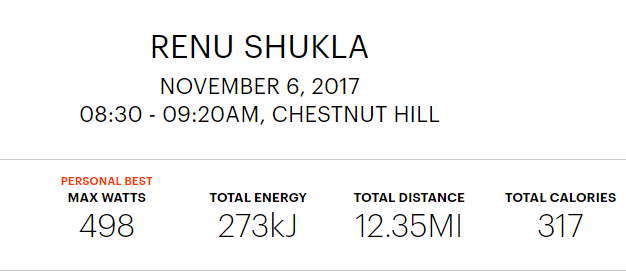 CLASS: Cycle Beats with Renu Shukla
Class length: 45 Minutes
Description from the Equinox: Cycle to the Beat of the music. This challenging and high-intensity class is a great cardiovascular workout and experience.
WHAT CLASS WAS LIKE
A forty-five minute indoor cycling class that pairs music to your efforts to help motivate you for those intervals or slow you down for recovery segments. Some intervals, a few longer efforts, good music. Like any indoor cycling class I've taken, a lot depends on the instructor. Finding an instructor you enjoy who plays music you like is key!
Our class today included two 3 minute efforts where we tried to hit the 1 mile-mark, a song where we did Tabata efforts of 20 seconds on and 10 seconds off (to an Imagine Dragons song, total win for me), and some other 20 and 30 second interval efforts.
This class felt similar to regular Studio Cycling – yes, you're using the beat of the music to inspire your efforts, but it's not like Soul Cycle where you're trying to sync yourself to an exact cadence and pedaling stroke.
Who would love it
Anyone who wants some intense cardio that's free of impact. This is great for all levels because you control the resistance on your bike. New to cycling? Take it easier. Want to work so hard you have sweat dripping down your arm and you're gasping for breath? You can do that too.
It's also fun for data enthusiasts because you can track your workout on the Equinox app and it'll send your stats from your reserved bike straight to your Equinox account. That means you can track progress, compare efforts, see which breakfast cookie best fuels your workout… whatever.
Know before you go
Cycling shoes really help you get more power for the full foot-stroke when you're cycling indoors. Bikes at the Equinox are SPD clip compatible and Look/Delta compatible, but they also had cages so you can wear your normal shoes. (Don't be afraid to do that before investing in cycling shoes.)
At the Equinox you reserve your specific bike in advance; look for the numbers on the front of each bike to find your spot when you get there.
Show up at least 5 minutes before class to set up your bike, and maybe 10 minutes ahead of time if you're new to indoor cycling so the instructor can help you fit your bike to the right settings. You'll be most comfortable if you're not hyper-extending in your pedal stroke or the inverse, so it's worth getting it set up right. Snap a photo of your settings so you can set up your bike solo the next time. Instructors like Renu are also experienced enough to spot needed adjustments during class – I've seen her spot needed tweaks during the warm-up and help people get more comfortable for the ride. They want you to have a great class, so they'd love to help you get comfortable enough to work hard and come back!