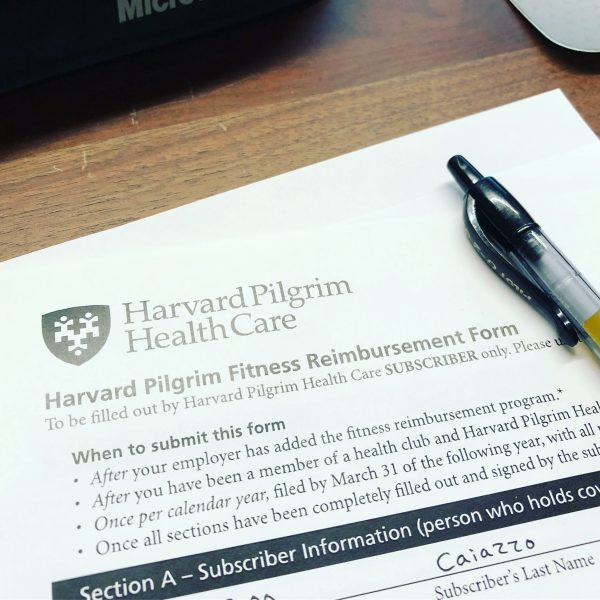 Last night I filled out the form for our fitness reimbursement from our insurance company. We can get up to $150 back per family per calendar year. That's not insubstantial!
It's worth seeing if your health insurance or employer offers a similar reimbursement; many do as a commitment to preventative health care. Exercise decreases our risk of costing them money, so incentivizing it may benefit them in the long run.
Not a member of a club? Maybe knowing you can get reimbursed will help you add a membership to your budget. As much as I love exercising outdoors, being in New England makes it hard (and potentially slippery and unsafe) this time of year.
January can be a great time to join because many clubs offer New Year's incentives like $0 initiations and bargain monthly agreements. Just be careful to read the fine print; you'll want to know if you're making a monthly or annual commitment, how much notice you need to cancel your membership, whether you can freeze it for travel or medical reasons (and how much notice and documentation you'll need), and what's included. Is childcare extra? Do you need to pay an additional access fee for that outdoor pool in the summer?
Speaking of membership fees, another way to add to your health budget is to audit your other monthly subscriptions. No longer watching House of Cards? Maybe it's time to cancel Netflix. Are you still paying access fees for Sittercity even though you connected with a babysitter months ago? What about that quarterly magazine that still shows up because of auto-renew but never gets read?
Auto-renewing subscriptions are insidious and they add up. An audit of my own subscriptions revealed a few services that I didn't even remember I had.
Whether it's picmonkey, lynda.com, or three digital news outlets when you only read one, combing through your credit card statements to find services you no longer find valuable could yield some extra cash to put into savings or invest in your health.