This post is part of my 2017 New Year's Resolution to try every group fitness class offered at my gym, The Equinox in Chestnut Hill. See the full list of reviews here.
Progress: 42 Classes Down, Approximately 4 To Go (class offerings sometimes change)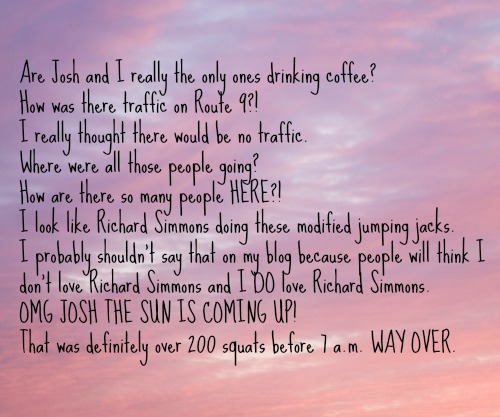 I was not that excited to get up at 5:20 a.m., but if you're going to do it sporadically, the week after daylight saving time ends when you're still adjusting to the time change is a good week to do it!
Class: Boot Camp with Josh Fink
Class length: 50 minutes
Description from the Equinox: You know the drill…anything goes in Boot Camp! Reap the benefits of this ultimate calorie-burning workout through challenging combination of cardiovascular drills and resistance training and much more!
What Class Was Like
Remember, "anything goes!" so this is just what class was like today.
Boot Camp today was a circuit workout with four stations set up in a line so you work your way forward and then start again in the back. All-over strength and cardio. The Four Stations were each done 4 times total, two different sets of alternating workouts. So you'd do Set A at each of the four stations, then Set B, Set A, Set B. In between each of the four stations Josh would have someone pick a number between 1 and 8 that would dictate what cardio you'd do in between. Very short recovery between stations.
60 seconds of each Station and each Cardio segment for the first two rounds, then 45 seconds of each station and segment for the second two rounds.
It was a very challenging class at a very early hour, but Josh is so friendly and personable and the segments so short that it's more bearable than you'd think. It might be "Boot Camp" style exercise-wise, but it's more like morning coffee with an encouraging friend (who is an expert at whatever you're struggling with) instructor-wise. Modify in his class and you'll get a smile and a thumbs up for paying attention to your injury history or current fitness level. This makes it easier to give class everything you've got because there's no shame when you need to dial back. (And he's still smiling when he surprises everyone at the end of class with burpees, so FYI the class isn't easy just because he's nice when you choose the low-impact option.)
Sample Workout
Cardio warm-up of jumping jacks, lunges etc.
Four stations
Matt abdominal work

Set A) Penguin reaches (partial sit up position, fingers spread, reach forward on one side and then the other maintaining partial sit-up)
Set B) High plank position bringing each knee up to the outside and then back, then up to the opposite elbow and back

Dumbbells

Set A) tricep curls then overhead extensions
Set B) lighter weight jabs (like from kick-boxing)

VIPR

Set A) Push up over the VIPR with it in the space under your chest then take one hand in plank position and slide the VIPR over to the other side, repeat alternating
Set B) Take the VIPR from a squat position in between your legs up and over your head while you stand up then back to starting position, alternating sides in a fluid motion

Kettle Bells

Set A) Deadlifts
Set B) Goblet curtseys
Cardio Segments in between (just some examples, but to give you an idea)
Mountain climbers
Sea Star Jumping jacks (where your arms and legs are all simultaneously in the air in a big burst)
Lunge, shuffle, opposite lunge
Jump squats
BONUS – Once we cleaned up the equipment we got to do burpees and more mountain climbers, and jumping in squat position floor touches! Total surprise round. Josh knows who I am so I couldn't hide in the equipment room either.
Make sure you leave time to stretch and maybe even foam roll on your own after class before rushing off to the rest of your day.
Beginner Friendly?
Look.
It's "Boot Camp".
At 6 a.m.
Can you guess?
…
You were right.
This class is one you should work up to if you're just getting into group fitness classes. I recommend being able to do the following exercises for 60 seconds before you go to class: push-ups, mountain climbers, high plank, squat jumps, dead-lifts, jumping jacks, seated v. If you can't maintain those exercises for 60 seconds, you might enjoy class more if you work up to that level in another class before attending.
That said, if you can maintain those exercises for 60 seconds this is a great class. We don't grow when we don't reach, and Josh is a friendly and welcoming instructor who will modify for you if you get in trouble.
I thought to myself in class, wow, I wish I were one of the people who came voluntarily to this class. (I know, technically I came voluntarily, but I mean choose to take this class consistently on its own merit not just once as part of some insane New Year's Resolution.)
Think of all those people who regularly take that class, doing burpees like a boss before 7 a.m. – how strong must they be? How much energy do they have to thoroughly enjoy what each day brings because they're at that fitness level? If I can survive this class, you could become it.
Why is it great?
A very challenging but amazing start to the day. I got home when I normally get out of bed, and I must say I make lunches SO MUCH FASTER when I've already worked out and showered. We left for school on time, I got home and got to my volunteer meeting on time, I'm eating lunch on time, and my legs feel great.
I might be tired tonight / tomorrow from cutting my sleep short, but right now I feel amazing.
Know before you go
If it's set up as a circuit in the same style, you'll need to pick a starting position when you get to class.
Check out the stations you'll rotate into to make sure they have appropriate weights for you and maybe grab an extra set if you need them.
The purple-ish VIPR is lighter than the black VIPR. (You're welcome. Josh told me that. You can thank Josh.)
Contigo coffee travel mugs are legit spill-proof so if you bring them to class and knock them over you will be fine.