This post is part of my 2017 New Year's Resolution to try every group fitness class offered at my gym, The Equinox in Chestnut Hill.

First of all…
Anyone else having totally one of those days? Those 10 minutes late to drop off, checking into the gym 2 minutes before class when you're a type A, forgetting a major piece of clothing when you planned to go straight to kindergarten volunteering from the gym kind of days?
Totally one of those days.
But the nice thing about exercise is that it makes you feel capable of handling that kind of day.
Class: The Pursuit: Build (cycling)
Description from the Equinox: Precisely timed high-intensity intervals to maximize your performance, The Pursuit: Burn, is a hardcore cycling experience scientifically designed to push you to a new level of fitness.
Class length: 50 Minutes
What Class Was Like
Ok, they're missing a major element of the class in that description. What makes The Pursuit different from other indoor cycling classes is that they display your stats on the wall for different games while you're riding. Motivation.
You can't always see your individual score, but sometimes you can see your bike number listed in comparison to others, and you can see the first name and last initial of those who make it on the leader board after different portions of class.
This morning's class had 3 games.
Game One: The first was a 9 minute game split into 3 sections where you tried to match or exceed your mileage from the first sections. (Positive splits.) This requires more pacing than I'm capable of, but I've got a better strategy for next time. While we were riding, everyone's bike number was displayed in a circle with a mileage trail behind it, a little like a lollipop. Each lollipop got longer as you progressed further, and your circle lit up to show when you were on target to beat your previous 3 minute performance. 1st place, 2nd place and 3rd place in the class were marked over their circles.
Game Two: We were split into two teams and competed to add mileage rings to our circles. The competition contained sprint segments.
Game Three: We were split into three teams and competed for mileage. There were sprint segments when the visual of team progress was hidden and you tried as hard as you could to be in a better team position when the sprint ended and they re-displayed the leader board. Our team was in the lead for the first several sections and then lost it on a hidden sprint and never made it back to first.
You can see below that I was 31st overall out of 32 for game one. This seems fair given the limited cycling I've been doing.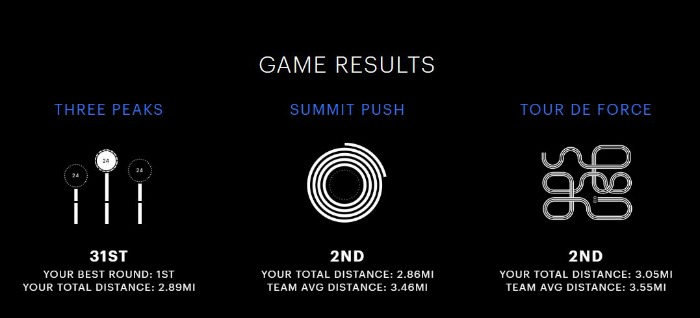 Verdict
This was great. I definitely felt motivated to work harder for longer knowing that I was part of a team. I was a little less motivated by the individual effort. It was clear from the beginning that I was going to be one of the stragglers, and pretty clear by the second segment that I'd gone out too hard in the first and wasn't going to surpass that effort. When you know you're that far behind, it's harder to push. Especially with another effort coming up.
The team games were very motivating, though. Knowing I was likely the slowest cyclist on my team meant I felt a real obligation to do my best and not hold everyone back any more than my ability dictated. I felt like my team deserved my best, especially seeing the leader boards and knowing some of my fellow cyclists were putting down amazing mileage. When my team was in the lead for the third exercise, I pushed as hard as I could because I didn't want to be the reason they lost the lead.
Will I be back?
Oh hell yes. This class is going to make me faster. I would go back tomorrow. (And regret it. And not have ample recovery time. So actually I wouldn't.)
Know before you go
Cycling shoes really help you get more power for the full foot-stroke when you're cycling indoors. Bikes at the Equinox are SPD clip compatible and Look/Delta compatible, but they also had cages so you can wear your normal shoes. (Don't be afraid to do that before investing in cycling shoes.)
Your individual stats will be displayed by bike number for some of the games, and there's a leader board at the end of each segment. After the class, the full leaderboard is available online with your username and photo if you supplied one. Not ready to go public with your mileage? Use an nick-name and opt out of the photo when you set up your cycling account on Equinox's site.
On being behind
I'm fine with being one of the slowest people in the class, because I haven't been cycling much lately. (Something about swimming 3 times a week and trying every new class at the gym. Time consuming.)
I'm also thrilled with my stats because I can look back at some of the class stats I entered a few years ago and see that I've made progress.

Today I averaged 109 watts.
About 2 years ago on a ride I averaged 83 watts.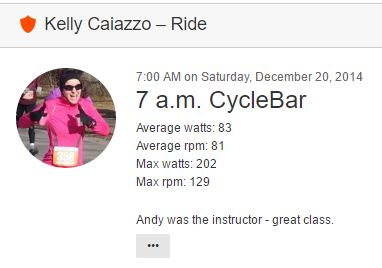 I actually remember averaging in the 40s or 50s for wattage when I first started indoor cycling. Now I regularly average just over 100, even when indoor cycling hasn't been a focus.
Tracking progress is helpful when it's helpful
I could look at that leader board and feel embarrassed at being 27th out of 32, but instead I feel great because I'm much stronger than I was before. I also feel excited to work my way a little higher up the board this spring as I get closer to Tri for a Cure and start doing more cycling.
Know yourself. If it'll bother you seeing yourself lag behind, pick a regular cycling class where you get your stats at the end… or choose not to track your class and just ignore your stats altogether.
It can be particularly hard if you used to be a stronger cyclist than you are now. I can't get too smug about feeling peace with where I am as a cyclist when I haven't been working that frequently at it and I'm the best I've ever been.
If you've got memories of the leader board that you need to let go of for a while, ride solo.
Focus on other goals like frequency, or your average heart rate.
Competition should be fun. If it's not fun, change your game 🙂