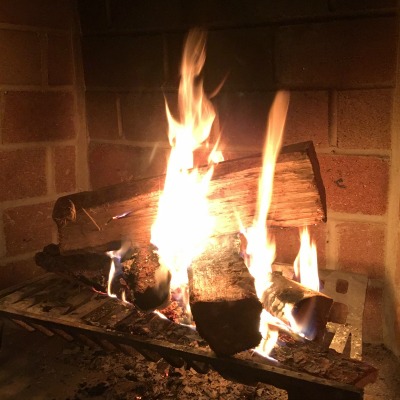 This post is part of my 2017 New Year's Resolution to try every group fitness class offered at my gym, The Equinox in Chestnut Hill. See the full list of reviews here.
Class: Firestarter
Description from Equinox: You've never spent half an hour like this. Prepare yourself for the next generation of cardio HIIT training, with every second supercharged in a blitz of lightning-fast intervals. Use your body weight and a step bench to blaze your way up and down innovative sequences that will crush your personal best, then switch to actively recover without slowing to a halt. A complete cardio challenge that demands everything you've got and incinerates your goals in thirty flat. Be glad it's not longer.
Class Length: 30 minutes
My experience
This cardio intense class used a step to do different exercise sequences in pyramid intervals. The class was broken into three different seven-minute segments with instruction and active recovery (stepping up and down from the step) in between.
Pyramid intervals are when you start with a longer effort, recover, shorter effort, recover, shortest effort… or vice versa. The longest effort in this class was a 45 second effort, so whatever we were doing would be for either 15, 30 or 45 seconds. Each seven-minute segment had two routines that would be used for these pyramid intervals. I found it easy to get the hang of the two different sequences. The hard part was maintaining it for 45 seconds. You'd think you could do anything for 45 seconds but that depends on how high you're jumping and what you did for the last ten minutes.
Example sequences: 
Jump over the step to the front landing in a squat and touch the front of the bench, then run backward and jump as high in the air as you can with your arms forward.
Start with one foot resting toes up on the step, jump alternate which foot is on the top of the step in a quick, quick, slow sequence where you descend into a lunge on the "slow".
With your hands on the bench starting in push-up position, jump your feet from the left of the bench to the right of the step (staying flat-backed so they're your body length behind the step).
You can watch a quick video segment of what the class looks like here: https://www.equinox.com/groupfitness/4881/firestarter
Our class did not look like that. We had some pretty athletic, motivated and coordinated people, but it was not nearly as in-sync or well-executed as you'll see in their promo. (This should go without saying). I wasn't the only one modifying some of the more difficult jumping exercises, and we were all pretty spastic towards the end of each interval. Everyone left sweaty, and that's what counts.
Verdict: A lot of jumping, definitely a lot of sweating, definitely an elevated heart-rate throughout the half hour. I chose to modify some of the sequences when she gave the option because I could feel my calves starting to burn in a way that was reminiscent of T-25 when I always felt like I was too sore to move the next day. I didn't feel like I was holding back or opting out, so much as correctly modifying. I don't want to do today's workout at the expense of tomorrow's.
Update: Was definitely sore the next day, but more in my thighs! Took a rest day and then ran easy the following day.
Will I be back? I'm not sure. For schedule and efficiency reasons, it's nice to get a workout done in half an hour. But from an exercise standpoint, I'd rather spread the pain out a little and do slightly more recovery in between intervals and take a longer amount of time. (That's part of why I like half marathons.) I also think a strength training class would better complement my triathlon training. This was fun to try, but if I were to choose a class to add to my week Firestarter might not be the best fit for me.
Know before you go: 
We put our hands on the steps for a number of exercises, and the ribbed no-slip top of the step was not comfortable when putting your weight on your hands. Savvy participants laid down a towel, but I think an even better move might be to wear weight lifting fingerless gloves or bike gloves if you already own some. That way you don't have to move the towel every time the sequence shifts from one where your hands are on the step to where you need to stand on the step.
Participants needed to get, assemble and place their own steps. Arriving before class was helpful. Steps needed to be set up in a staggered fashion from people around you, not in a row, so that people had more space from side to side as well as front to back.
Neat aspect of Equinox's course descriptions: the Breakdown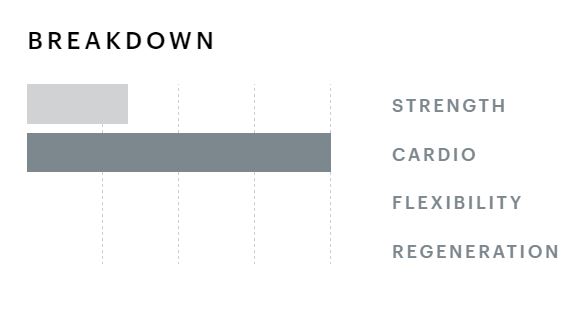 Equinox (and a lot of other gyms & fitness clubs) provides a breakdown of what you can expect from each class in terms of strength, cardio, flexibility and regeneration. They also list what level the class is. One of their yoga classes is intermediate, most are all levels welcome. Some have more regeneration listed than others (which usually indicates a less challenging and more relaxing class). It's a helpful way to gauge what the class will be like.
This class was definitely a lot of cardio, and the strength felt more in the legs than in the arms, despite a small number of exercises with the arms on the step and body in plank or pushup position.
Next up?
I'm not sure… we'll see how I feel tomorrow and what our weekend schedule looks like!