One of my neighbors recently told me she was starting Couch to 5k again, and that she often does after a long break from running.
What a brilliant idea.
I've been swimming and taking a few classes at the gym (maybe you've heard) but not running much.
I can still run 3 miles at my slowest half marathon pace without stopping, but what if Couch to 5k could be used not just to get me comfortable running 3 miles, but to work into running them back at my old 5k pace… or better?
Couch to 5k is a walk/run program designed to slowly ramp up a non-runner into being able to run a 5k. It's a great program because it's so incremental. The first day has you alternate 60 seconds of jogging with 90 seconds of walking for a total of 20 minutes. That's pretty doable.
I'm wondering what would happen if instead of jogging I ran my best 5k pace. Would I end the 8 week program able to maintain that pace for 3 miles?
More traditional training would be three quality running workouts a week, totaling between 10 and 15 miles the way I've done it in the past.
Track repeats
Tempo
Long run
But jumping into that type of training after a low mileage winter while recovering from plantar fasciitis sounds like a bad idea. It'd also make it harder to complete the swimming and biking workouts I need to ramp up for Tri for a Cure in July.
Couch to 5k takes 30 minutes, 3 days a week. It's a cautious way to ramp up, yet I can make it more challenging by running faster intervals.
It'll get me running 3 miles at a faster pace again, and it'll be fun. You know I'm going to let myself feel like a badass for nailing that first day even though it's no more than 60 seconds of running at a time. Because why not? I set a goal and I nailed it and I'm going somewhere. I've seen the training plan.
It's not fun when you start running again after a break. Mileage and speeds that you remember being easy are suddenly hard.
It's demoralizing to consistently attempt something out of your reach, and a lot of us runners do this every spring because we don't realize how strong we were in the fall after running three seasons outdoors.
What if we intentionally undershot for the first couple weeks of spring running? We could choose running goals we know are well within our ability to reach. We can give ourselves time to warm up, ramp up, ease in.
Those of us who are recreational runners can afford to take a little extra time to ramp into the season and keep things enjoyable. It'll reduce our risk of injury and keep us from dreading our runs.
Hope you create goals that are the perfect balance of challenging but doable and have a very satisfying spring running season!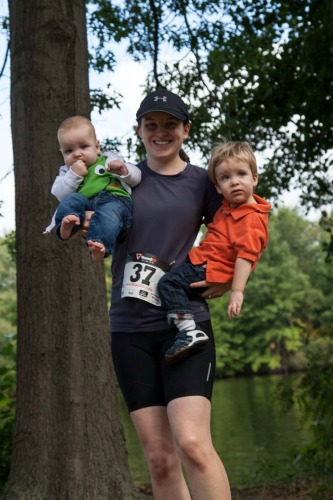 You can read my very first blog post about running describing my Couch to 5k experience in 2012 here: http://www.iamrunningthis.com/my-couch-to-5k-experience/