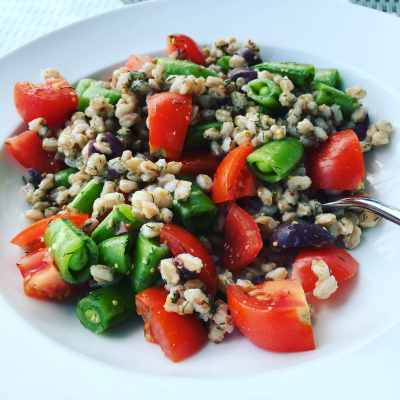 I recently made this farro salad from Vegan for Everybody by America's Test Kitchen.
It was amazing. The light and vibrant flavors of lemon and dill complemented the filling farro and white beans, while a hint of whole grain mustard and chopped kalamata olives made it a salad I couldn't get enough of.
I modified it to be oil free by adding additional lemon juice and whole grain mustard to compensate, and it was incredible. Healthy, delicious, and easy to make ahead and keep in the fridge for a fast lunch on a beautiful summer day when your time is best spent outside.
Farro
Farro is a hearty, slightly chewy grain that packs in 7 grams of fiber and 7 grams of protein per serving. (1/4 cup dry) It also contains other vitamins and minerals, including calcium, iron and magnesium.
Even Consumer Reports loves Farro: check out this article weighing in favor of Farro and Kamut over Brown Rice.
I love Farro because it's delicious, filling, nutritious, and easy to make ahead. I can cook a batch in advance and throw it in the fridge, where it can be mixed into salads or bowls or even topped with almond milk and fruit and eaten for breakfast.
Why are whole grains so important?
They can help lower cholesterol and reduce risk of heart disease. They're nutritionally dense, and their fiber content helps regulate our energy levels after we eat. Whole grain consumption is inversely linked with risk for type two diabetes.
Check out this nutritionfacts.org video:
I love that whole grains are good for us.
I also love that they're an efficient way to take those gorgeous summer vegetables and turn them into a filling meal.
Not sure where to start? I'm going to try this Strawberry Farro Basil Salad next. But you can also add farro to a salad you already enjoy, or make a 2/3 lemon juice and 1/3 whole grain mustard dressing with herbs and veggies of your choice. You know what you like!