I stood in the kitchen decked out in my running gear wiping away tears and trying to explain why I was crying.
I was about to head outside for a long run, my longest run outdoors since 2016.
It needed to go well.
I've been bored on the treadmill. Inconsistent. Frustrated with the competition between my memory of me as a runner with the reality of me as a returning runner.
The only way I could get myself to put in three miles on the treadmill the other day was by playing games with myself to see how high I could get the built-in heart rate monitor. 198 BPM. Running at 8.1 mph on the treadmill for 55 seconds at 2% incline did the trick. I drowned out the voice reminding me that this was slower than Greg's marathon pace. (Just kidding, I didn't drown it out, I saved it for my next blog post.)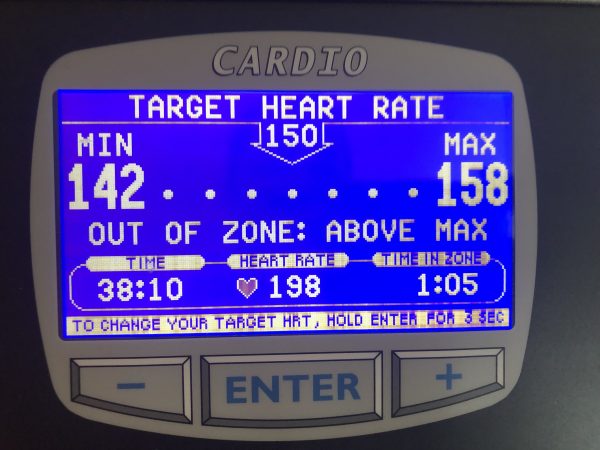 If you're a cardiologist or other heart or fitness expert I'm curious to know whether this game is even a good idea.
So there I was, in the kitchen, feeling like this was a critical run because I needed outside to be the magical cure for my running rut. Greg, ever fantastic, carefully herded me out the door with the right combination of reassurance, empathy, and podcast recommendations. A tricky exercise, getting a nervous runner who is crying in your kitchen to leave for their run. I've never had to do it. He even mapped out two routes for me and talked pros and cons while carefully pretending he wasn't aware that this was yet another procrastination tactic.
I chose the second route. (More scenic.)
I ended up listening to The Gun Show, a fascinating history of the NRA and how it essentially got taken over in a coup in the seventies to become the political monster it is today. It was fascinating. I already said that. I think anyone who lives in the United States should give it a listen. (And it's not a hard political sell on anything, it's just what it says, a history.) https://www.wnycstudios.org/story/gun-show/
There were moments when I wondered if I should be listening to the calm, dulcet tones of Rich Roll (a long run podcast staple of past years) but some of his episodes are more intriguing than others, and with a long-form style you need to surf for the ones that are most interesting to you. So Sean Rameswaram it was.
You're wondering how the run went. (I hope.)
It was great.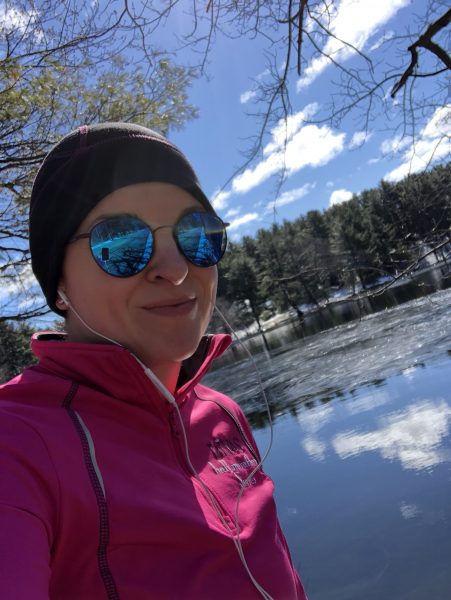 It was slow, but it was STEADY. No long agonizing walking breaks of defeat. No cramping. No wardrobe failures.
By mile 6 my legs felt that overall fatigue I remember from so many long runs in the past, which made me feel like I was really doing it – I was getting back into half marathon training. This is what I remembered.
I ran 8 miles, putting me back on track to hit 6 or so 10+ mile runs to prepare for the Maine Coast Half Marathon in May. The last time I ran the Maine Coast Half it was an utter disaster because I'd been triathlon training and I thought I could wing it. One does not "wing" a half marathon. (Or at least I certainly don't.)
So.
Here I am. I got back outside, and I ran for 8 miles, and it was beautiful and not boring and then I came home and Greg had taken the kids grocery shopping, poured me a beer, and made lunch.
Nothing to cry about.
The struggle is real. That run doesn't look like much on paper, especially compared to past years. But it broke through an emotional barrier I hadn't realized existed until I stood in the kitchen surprised at myself for tearing up over an upcoming run.
If 8 twelve minute miles in a row are what it takes to get my confidence back, so be it.
Because with confidence, I can move forward.
After I have this beer.