Second to last long run before Chilly! Can we just note the calories? Don't forget to eat more on your long run days (and maybe the day after!).
I ran the kids to school (Will on his bike, Andrew in the jogging stroller) and then dropped the stroller off and set out for the rest of the run.
Rather than just go for easy miles, I actually managed to follow one of Greg's training suggestions! He has great advice, but I'm not great at following it because it might impact my swimming or my schedule. "I agree! I should run 4 x 1600 tomorrow! But I need an easy day after swimming and I am way behind on every household task!" Ok, and some mornings I need to just sit and drink coffee for a little bit in silence.
Anyway, the stars aligned today, and his suggestion made for a wonderful run. He said he'd recommend throwing 4 slightly faster miles in the middle of my 10 mile run. Enough to get me used to a possible race pace while tired, but not too much considering I haven't tapered and am still shocked to be doing long runs at all.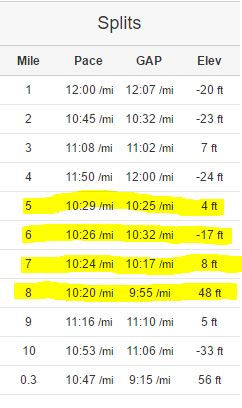 The first fast mile, mile 5, was so hard. I kept looking at my watch and adjusting my pace from too slow to too fast and back again. I was all over the place. Then I settled in, and the next miles were a challenging pace, but doable, and really enjoyable. It was fun to have a goal, to adjust strategy for hills so I would still clock in around 10:30 for the mile, to think with every song that I was a little closer to making it through the tough part.
Part of the point of this is to get you used to the feel of running a target race pace, but without the wear and tear of running a training run at race pace.
So… is 10:30 my race pace? I'm not convinced of that, but it did feel good to manage four solid miles of around 10:30 pace in the middle of a 10 mile run. That bodes well for being able to run this entire half marathon on Nov. 13th… which, I'm sure some of you remember, I had thought wasn't possible.
It was a great run, and I'm thrilled!
I followed it with a special lunch with just my little guy, and getting him new sheets for his converted big bed.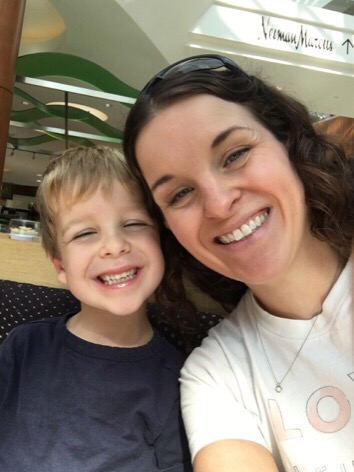 Swim lesson #4 of the season tomorrow! I was at the pool Sunday pulling myself back and forth with just one arm. If you've done swim drills with a barbell and pull buoy, you know what I'm talking about. If not… well, it's surprisingly relaxing because there's a lot less to focus on.
Hope your fall running is going well!