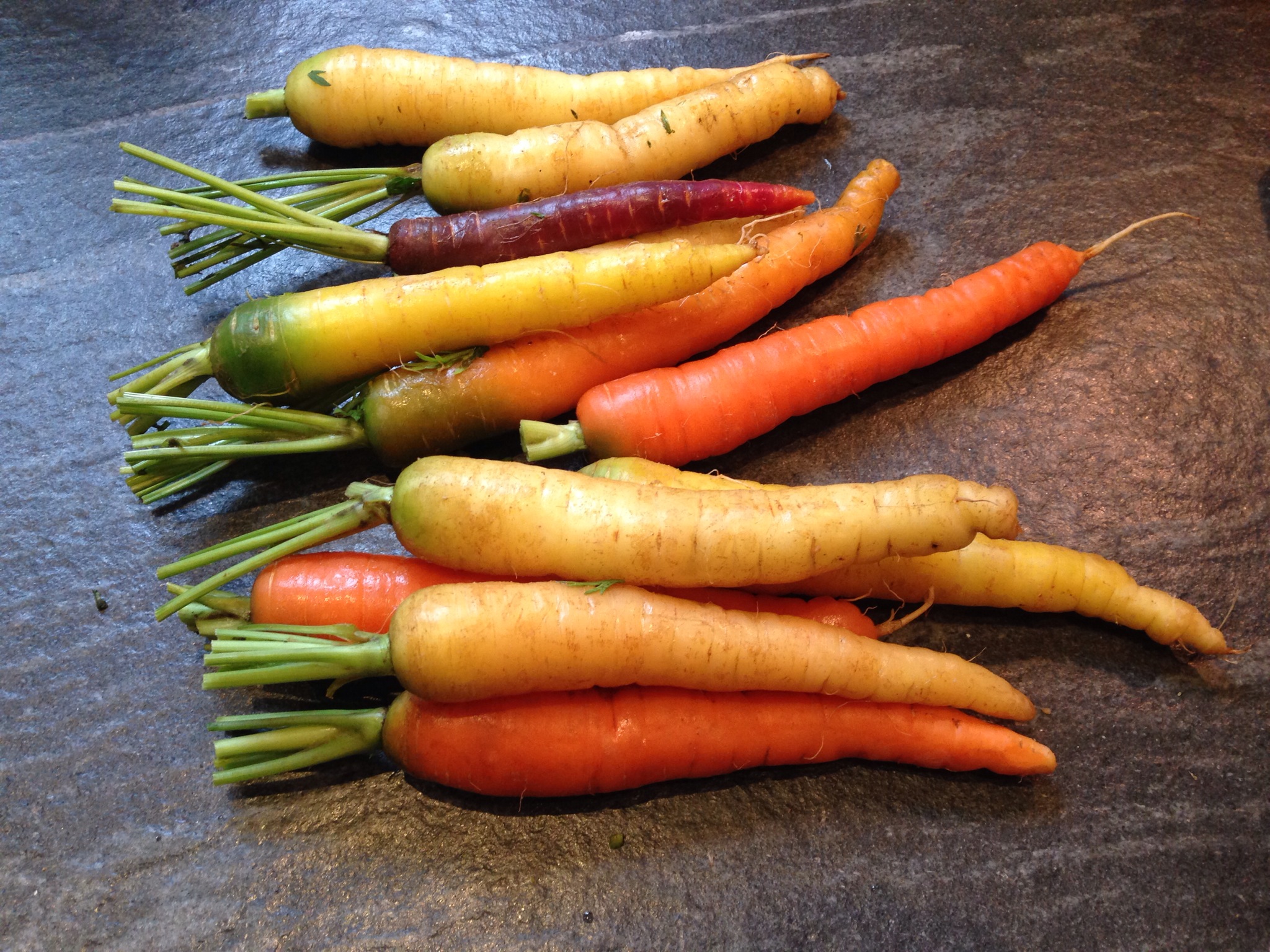 The idea for the recipe swap: I'm a member of a local mother's forum, and it's been a great way to connect with other moms in the area.  I realized recently that I don't know many other vegans or even vegetarians near me, and it'd be fun to connect with some people and swap recipes, restaurant & cookbook suggestions, etc.
Not just for vegans/vegetarians!  I realized that this would be a great chance to invite ANYONE interested in eating healthier, meatless meals to come exchange ideas.  Every meatless meal helps improve health, reduce cruelty to animals, and save the environment.  Sharing recipes makes it as easy as possible for people to contribute to the meatless movement one meal at a time.
So I posted my idea for a recipe exchange on the board, got enough interest, and organized an event for anyone who wanted to to come over and have a glass of wine and appetizers and share ideas.
The food: I have two preschoolers – I knew it would be all I could do to get the house de-cluttered in time for a party!  So I relied on the olive bar at Whole Foods to do most of the work for me.  I put out hummus and gorgeous brightly colored chopped carrots, pita chips, olives, marinated mini-peppers, grapes, strawberries, and one frozen vegan appetizer that I heated in the oven and served halfway through the event.  I had intentions of making a dessert but didn't get around to it.  There was plenty of food without it!  We served one type of red wine, one type of white, and put out water with lemon slices.  I arranged all the platters in the afternoon and kept them in the fridge so I could just arrange them on the counter after the kids went to bed.  Ta-da!  Instant party 🙂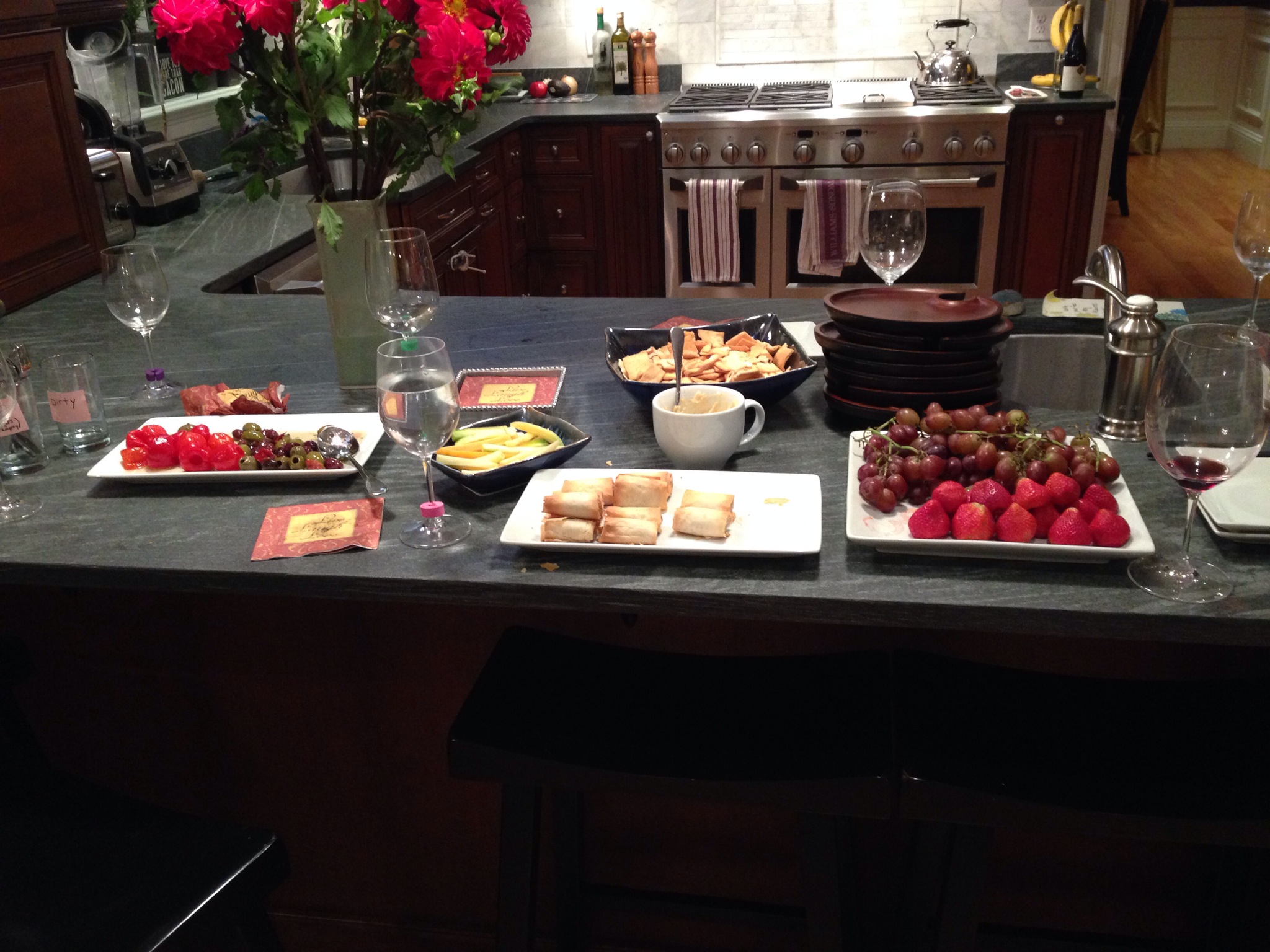 How the Recipe Swap Worked: I asked people to bring 10 copies of their favorite recipe, and leave with 10 new recipes.  That way it didn't matter exactly how many people came, everyone could choose their top 10 to bring home.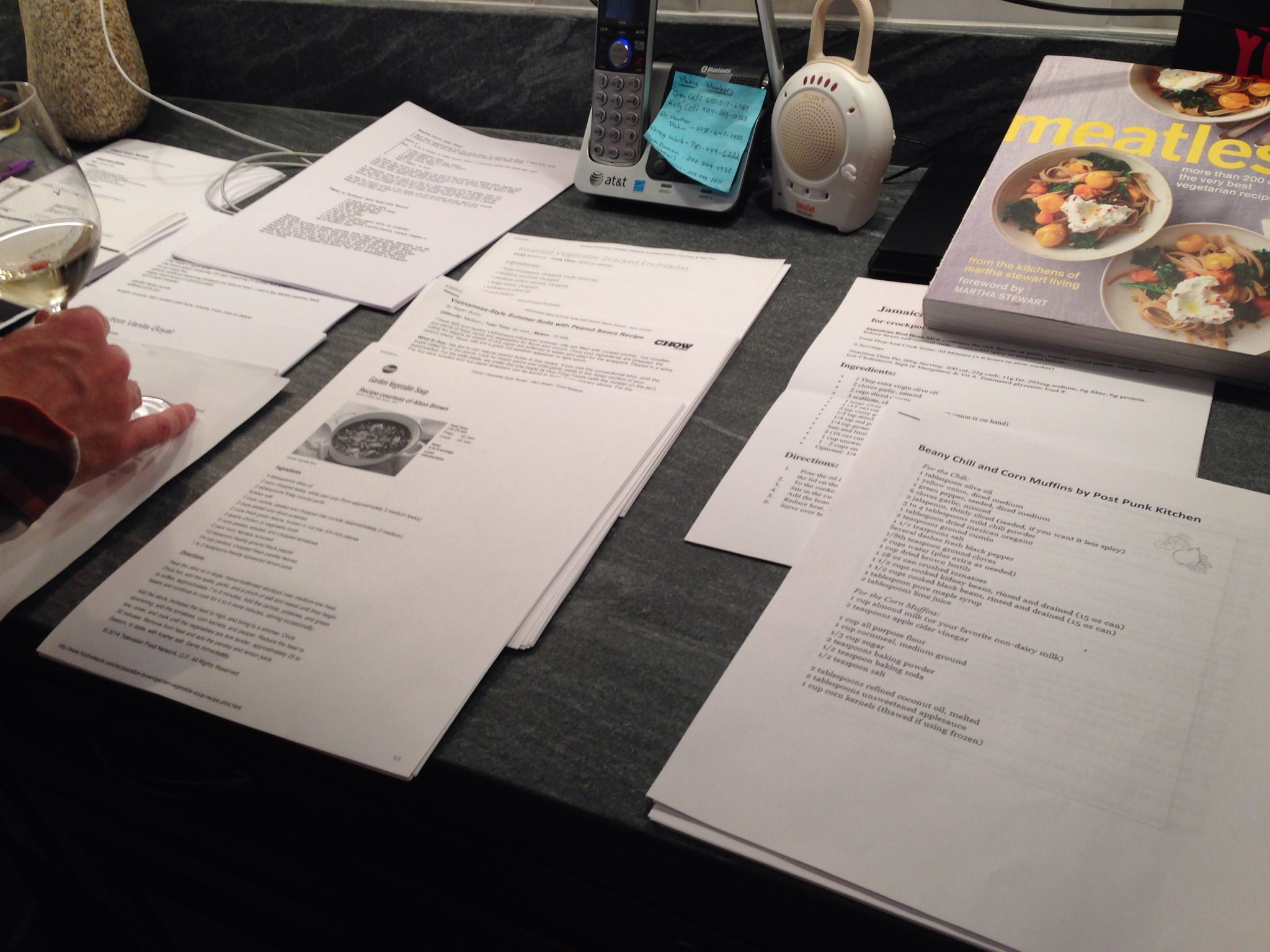 Collecting ideas: I put out sheets of paper asking people to write down their favorite plant-based food bloggers, cookbooks, and restaurant suggestions.  I welcomed people to take a photo of the sheets of paper after people had written down their ideas, but also said I'd compile them all in an e-mail and send them out!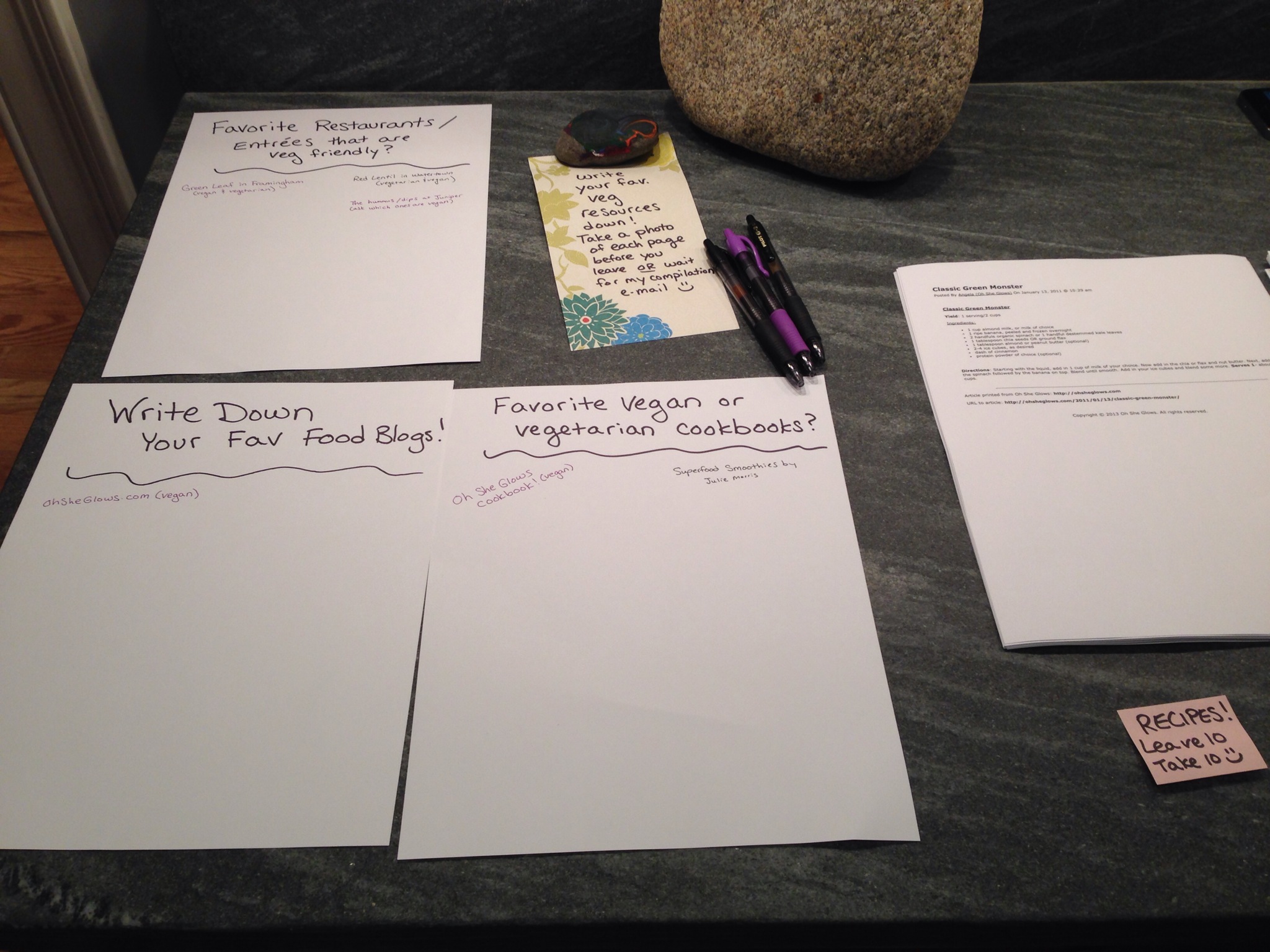 The turnout: It was great!  About 15 moms came, and it was a nice number for mingling.  People stayed past 10 sipping wine, eating appetizers, and talking about food, parenting, and any number of things.  Some of the women who came were my friends from the forum, but there were some women I'd never met before!  It felt novel to introduce myself to someone as they come into my house for the first time.  It was really exciting!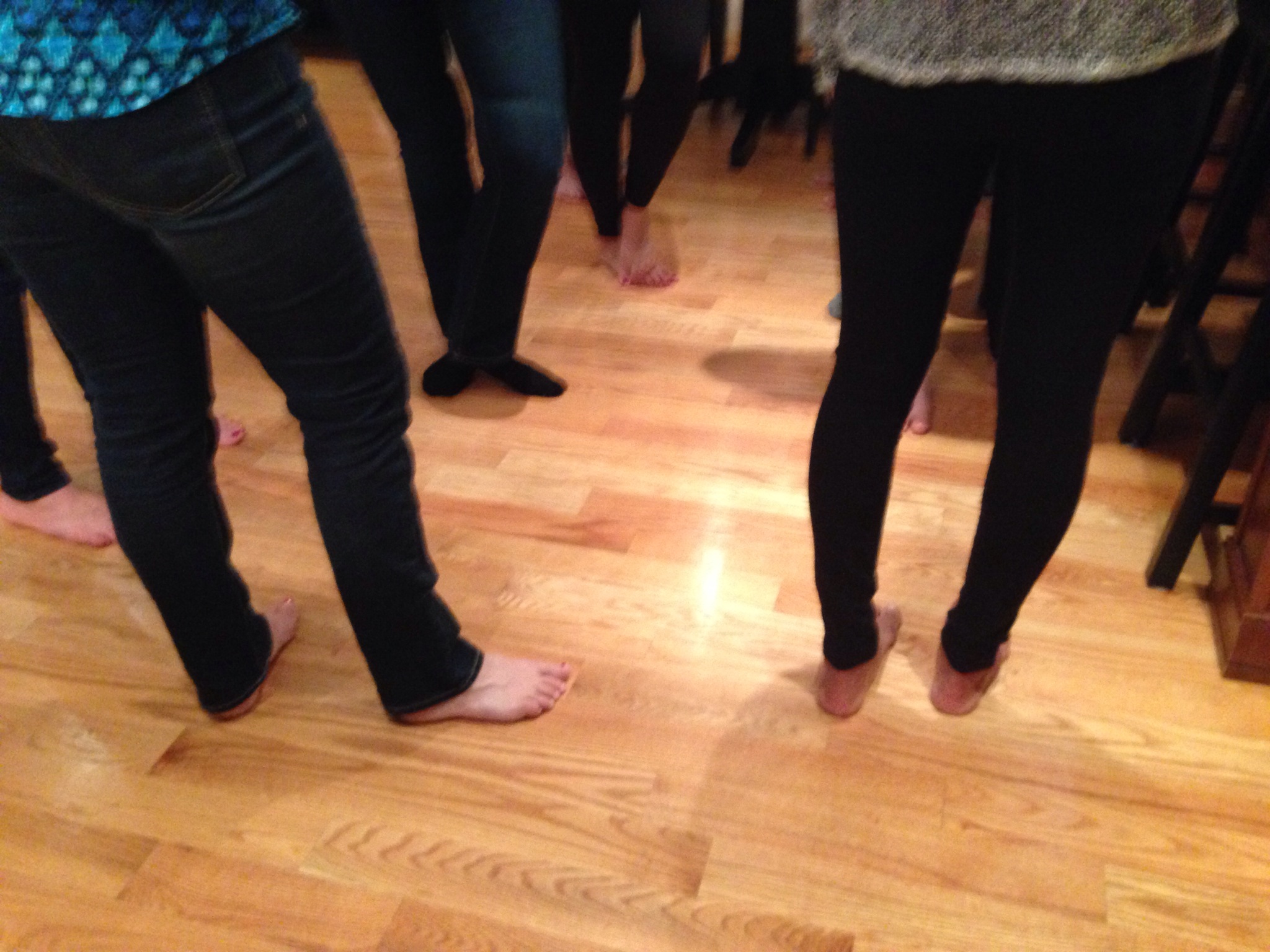 Compilation – The Ideas and Recipes!
Here are some of the cookbook and food blog recommendations!
Blogs:
Oh She Glows: www.ohsheglows.com (vegan) (gluten free options) No surprise – Oh She Glows by Angela Liddon was a huge winner in the blog AND cookbook category!  Her whole foods, plant based recipes are amazingly delicious.  She has many gluten free options.
Recipes for Health – NY Times by Martha Rose Shulman http://well.blogs.nytimes.com/category/eat-well/recipes/recipes-for-health/
The Post Punk Kitchen  www.theppk.com (vegan)  – less whole foods focused, but all vegan and she does lots of vegan versions of non-vegan foods. Great option if you're looking for savory dishes, brunch items, or baked goods.
Healthy. Happy. Life. http://kblog.lunchboxbunch.com/ (vegan) This site has 365 vegan smoothies, the best sweet potato white bean burger I've ever had (and it froze well!) and beautiful photography on top of all that.
Fork and Beans http://www.forkandbeans.com (vegan) (gluten free / nut free options) If you're looking to make vegan versions of processed treats, this is your place!  She has a recipe for vegan googly eyes to go on cupcakes, vegan tootsie rolls, all kinds of things that you might miss from your own childhood but prefer to feed your kids in healthier versions.  She has lots of gluten free and nut free options, too, so this is a great site for anyone with allergies in the family.
Fat Free Vegan Kitchen http://blog.fatfreevegan.com (vegan) (no added oils) Healthy, whole food vegan dishes!  Susan Voisin helps readers learn to use things like fresh herbs and aromatics for flavor instead of added oils.  Great for anyone with a history of heart disease or high cholesterol.  Good for anyone, really!
Thug Kitchen www.thugkitchen.com/recipes (vegan) (no added pretensions) Healthy, simple recipes delivered with plenty of profanity and zero pretensions.  Perfect for the veg-curious anti-hipster.
Cookbooks:
Oh She Glows by Angela Liddon (vegan)
Vedge by Rich Landau and Kate Jacoby (vegan)
Thug Kitchen by Thug Kitchen (vegan)
The Forks Over Knives Cookbook (vegan)
Vegan Brunch by Isa Chandra Moskowitz (vegan)
Quick Fix Vegan by Robin Robertson (vegan) – Healthy meals in 30 minutes or less
How to Cook Everything Vegetarian by Mark Bittman (vegetarian, lots of vegan options)
Meatless by Martha Stewart (vegetarian)
Superfood Smoothies by Julie Morris (vegan)
It's All Good by Gwyneth Paltrow, Julia Turshen and Ditte Isager (primarily vegan and vegetarian, some fish)
Hope you enjoy some of these resources; it's fun to have suggestions that have been tried out by someone else!  Another great idea is to check cookbooks out of the library before you buy them.  See if you like the author's cooking style.  Some might rely more on faux meat or processed vegan products – I prefer whole foods oriented cookbooks.  Some might be great for special occasions but incorporate too many ingredients for daily use.  It's not just whether the recipes are good, it's finding ones that match your lifestyle!  Try before you buy, ask your library if they can inter-library loan a title for you, or consider doing a cookbook loan/swap with friends, too!
What a great way to share healthy meal ideas – and remember that you don't have to be vegan to eat a meal without meat, eggs or dairy.  Everyone can benefit from a whole foods, plant based meal!  Spread the deliciousness!
Here's to your health 🙂
Please comment below and share your favorite cookbooks and recipe blogs!