I went for an amazing night run Saturday night.  I've never done much night running, but part of my new strategy from Jake is to make running fun and run when I feel like it.  Last night, I felt like it.  I hadn't run the day before, and I really wanted to get out for a run but not at the expense of going to the Farmer's Market as a family, or planting our Earthtainers in the afternoon.  Greg was doing his own thing, so there was no reason for me to hang around once dinner was cleaned up and the kids were in bed.  I grabbed an ipod loaded with my new running playlist and headed out for a few miles.
No sunglasses, sunscreen, or glare.  Lighter traffic.  A perfect 60 degrees.  It's beautiful and rebellious and fun to be out at night, high energy music propelling me forward through the cool night air.
Reflective Gear: If you're going to do any early morning or late night running, I highly recommend getting a reflective vest.  The one I use is actually Greg's, but it adjusts to fit any size.  It's the amphipod relfective xinglet vest.   For $30, we can now alter any running outfit to be extremely reflective.  I have a headlamp also, and that's great if I'm running anywhere without good street lighting.  Last night, I was hitting some well-lit sidewalks so I skipped the lamp.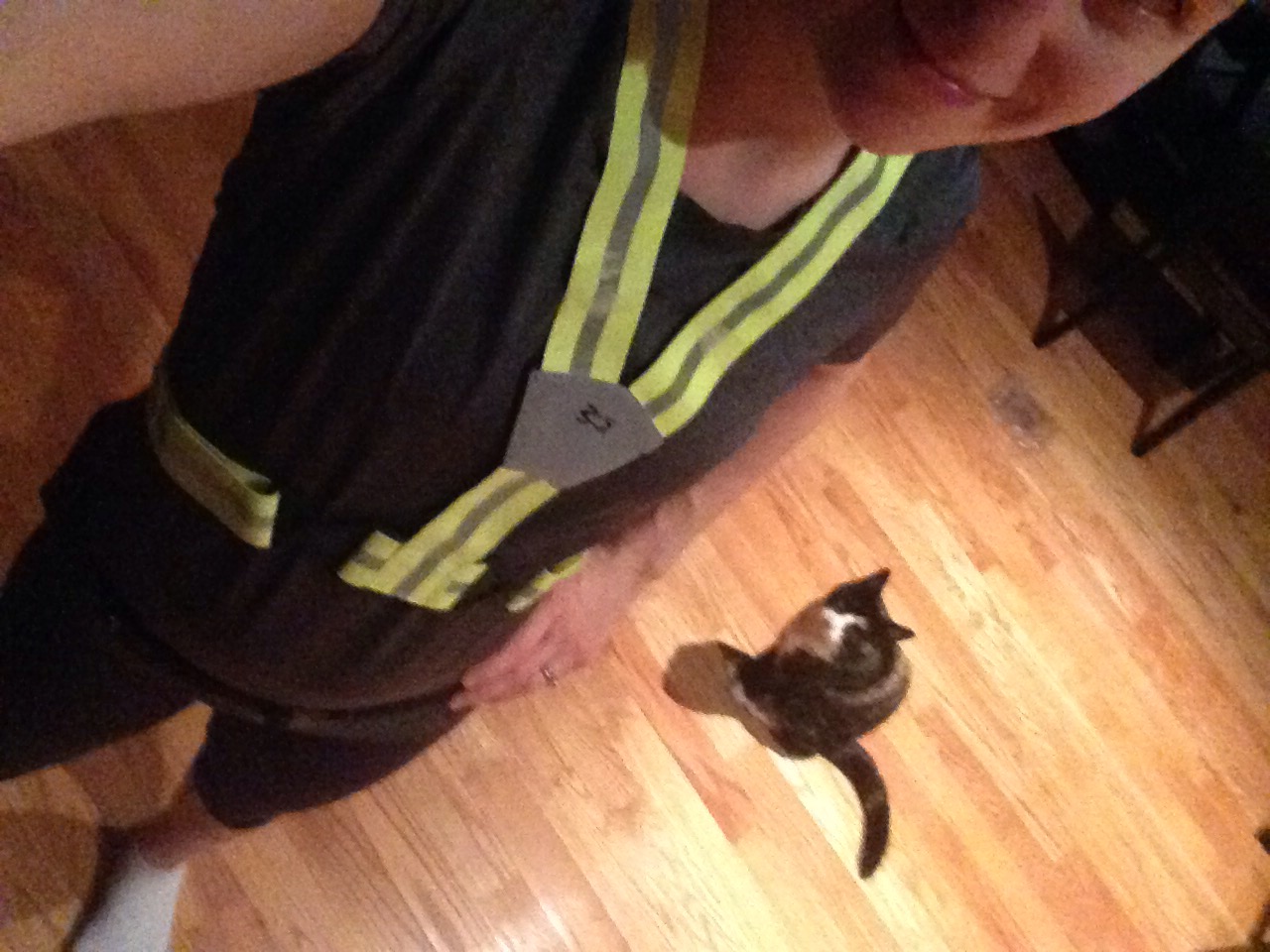 Why no GPS: Part of my discussion with Jake at our first coaching session was whether I was using my Garmin as a useful training tool, or using it to make myself run differently than I really wanted to.  I realized that I would run slower than I felt like running out of fear that I wouldn't log a certain number of miles.  I would run further than I wanted to one day out of obligation, then less (or not at all) on another day because I was conserving energy for a scheduled run the next day.
Jake suggested I stop doing all of this, at least while I'm just building up my running base prior to starting a 12 week training plan for my next half marathon in August.  He suggested I run what and when I want to and enjoy myself.  Sure, I should try to do hill sprints a couple days a week, run longer one day, and do some higher speed running, but I should think of those components as a guideline when I've got my shoes on and I'm deciding what to run.  Follow my heart first, and a plan second.
How running with no GPS changes my running: I've found that without my GPS watch, I tend to run faster and require more brief walking breaks.  I enjoy running Fartlek's or just higher speeds, knowing I can slow down and even walk for a few minutes without feeling like I should stop my watch.  I used to hate taking multiple walking breaks, not because I didn't enjoy running fast and then recovering, but because I didn't like seeing my "failures" recorded by my watch.  No more.  Now there's no permanent record anywhere of how many speed bursts were followed by a quick break, or how long that stretch of steady running was in the middle.  It doesn't matter.  Nothing matters except that I ran what I felt like running last night, and loved every second of it.
How far did I run? It was hard to let go of tracking my miles.  I wondered, how far am I really running now when I'm gone for 35 minutes?  55?  I'm not even sure how long I was gone last night, except that I got home later than I expected.  It was an out and back run on a familiar route, and I know exactly where I turned around.  I couldn't help it – I decided to look up the distance this morning.  I figured I'd run at least 3 miles, maybe 3.5.
I plugged in my turn around point and clicked "get directions".  2.4 miles away.
I ran 4.8 miles last night and thought it was maybe 3 or 3.5.  I can't remember the last time I ran with my GPS watch and was surprised by how many miles I'd run.  I'm always checking it, thinking about when I should turn around, can I run a little farther, well I don't want to be tired tomorrow, blah blah blah.  Last night, I just headed out and did what I felt like and it was longer than I thought by a decent percentage.
I'm not suggesting everyone should ditch their Garmin: To be clear, the non-GPS running strategy might not work for everyone, or all the time.  A GPS watch is a great tool.  It can help you hit your goal when you're aiming for a set number of miles, pace you when you're learning to run slower for a long run, and keep you focused if you're a numbers person.  It's been an amazing tool on my running journey.  I just got to a place where I was using the information to alter my running in a non-positive way, and I needed a break.
Find what motivates you, what makes you enjoy running the most, and you'll run more.
Has anyone else taken a break from their GPS before?  How long?  Did you improve during that time?