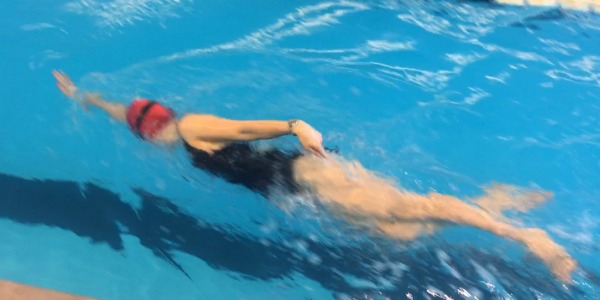 Here's a photo of me swimming yesterday.
I'm at the point where the quick technique fixes and rapid improvements are diminishing, and now the progress I see is much more gradual. I'm struggling with keeping my kick consistent and not scissor kicking when I take a breath, keeping my arm stretched forward while I take a breath and not letting it dip or bend, and keeping my temple down in the water when I breathe with the left arm forward.
My personal trainer (coach? swim instructor?) is going to start dividing our hour sessions into drills for the beginning and then working on increasing distance for the second part.
Yesterday's swim workout:
50 yards swimming
4 x 25 yards side kicking drill
100 yards pull buoy
4 x 25 yards armless swimming drill
6 x 50 yards swim
75 yards swim
That's a total of 725 yards. Tri For a Cure's swim course is a third of a mile: 587 yards. So if this is average for a session, I'm swimming longer than the course distance every Tuesday and Thursday. 🙂
(For experienced swimmers, I realize that's not very many yards in an hour, but realize there's a lot of instruction and procrastinating and heavy breathing mixed in there slowing me down between pool lengths.)
I feel discouraged by the way my form falls apart at the end of 50 yards. I feel encouraged that I'm doing 50 yards at a time instead of stopping every 25, because that's progress. It's slow, but it's progress. And I can taste a breakthrough around the corner. I thought it would be salty but it tastes a little like bromine.
Donated Blood Today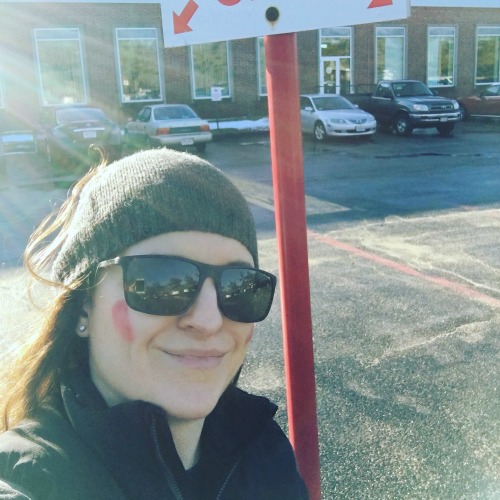 Today is warmer than it has been in weeks and I have a strong urge to go running…. but I had scheduled a blood donation so I donated blood instead. I guess doing both isn't advisable. Especially since I plan to replace that blood with beer later. It's a retox ritual I like to do every so often to compensate for all the leafy greens I enjoy.
Here I am in my war paint in front of a Donor Parking sign. I joked on Instagram that I always wear extra blush to blood donation appointments because then they don't tell me I look too pale and advise me to sit there longer in recovery. I am always pale. I have things to do. (Yes, I blended the blush before I went in.)
I'm not a fan of needles. I love remembering the time that I left my doctor's office out the back door rather than stop at the lab as directed to get my blood drawn for a cholesterol check. Since I started donating blood I've had enough exposure to become desensitized to the fear and wouldn't classify myself as afraid anymore. It took knowing I might save a life to take a deep breath and voluntarily donate, but now it's seriously not a big deal.
So many things in life are like that. You can find out more and schedule your next donation at redcross.org.
I have picked my first new class to take at the Equinox!
(Read about my goal to try every class my gym offers here.)

Oh yeah. That's right. It's called FIRESTARTER.
Which is pretty much the exact opposite of how I would describe my fitness personality. I'm kind of a "smoldering and could possibly be out but can't quite tell for sure" fitness type if we're talking flames.
But get this – it's a new class, and they're promoting it by offering you a free Sweetgreen salad if you take the class in the next few weeks.
Um, yes. Please. I would like to start a fire and then eat some kale while I blog about it. (Guys, I think the fire might be in your muscles. I am a little afraid. But they have burned before.)

I'm taking it Friday morning. Wish me luck!
And let me know if you try a new group fitness class! Paul, we're particularly interested in hearing how much you like Zumba.
-Kelly