Best Documentaries About Plant-Based Eating
Forks Over Knives – a wonderful documentary about the importance of a whole foods plant-based diet for our health, with only brief information about the environmental and animal rights elements.  Watch it on Netflix.  Watch it on Amazon.
Cowspiracy – directed by Leonardo DiCaprio, this documentary explores the environmental impact of animal agriculture, and why no one's talking about it. Exploring greenhouse gas emissions, water usage, deforestation, dead zones in the ocean, the film demonstrates the incredible power we have to reduce the environmental harm we cause by changing the type of food on our plate. It will inspire you to feel good about every plant-based meal you consume! Watch it on Netflix.
Vegucated – a documentary that follows 3 people trying a vegan diet for 6 weeks.  Heartfelt and interesting, great introduction to some of the strategies for transitioning to a vegan lifestyle.  Good information about animal rights and the environmental impact of eating meat/dairy.  Not as whole foods focused – yes, oreos are vegan, no, they are not food! Watch it on Netflix.  Watch it on Amazon.
ADAPTT lecture – Gary Yourofsky is an intelligent, charismatic and powerful speaker.  In his hour long lecture at Georgia Tech, he makes compelling philosophical arguments about animal rights, covers the science showing that humans are not meant to be meat-eaters, and shares some vegan food products that can make transitioning easier.  I learned some disgusting things about the dairy industry, and it reinforced my passion for a vegan lifestyle.
Some Great Vegan Food Blogs:
Oh She Glows: Angela Liddon is a whole foods focused vegan with amazingly delicious recipes.  She writes a blog with tons of free recipes online, and has also sold a cookbook.  Her cookbook is FANTASTIC, and her food is delicious as well as healthy.  She has a lot of gluten free and nut free options if either is a consideration.  Some of her recipes had lots of ingredients and can take a little time.  All of them are worth it.  If you're looking for a spectacular recipe to serve company, check her out!  She does have more simple recipes, too.
Healthy Happy Life: Kathy Patalsky just released an amazing cookbook, Healthy Happy Vegan Kitchen which is filled with mostly whole-foods based recipes that are all as delicious as they are vegan (which is 100%).  Check out her blog for many of her recipes, and if you like what you see, I promise the cookbook is a great investment!
The Post Punk Kitchen: Isa Chandra is one of the foremost vegan food authors in the country.  She has published tons of vegan cookbooks.  She's a great place to learn how to transition to vegan cooking, since she offers a lot of "veganized" versions of traditional recipes.  Looking for vegan pancakes?  Isa is your girl.  Vegan cookies?  Isa.  She's got great comfort food recipes, but they're not guaranteed to be quite as healthy as Oh She Glows or other whole-foods focused vegan cooks.  (Sometimes that's ok!)  Many of her recipes are online, and if you like her style check out some of her cookbooks!  Vegan Brunch is a favorite in our house, and I bake our Christmas cookies from Veganomicon.
Resources for transitioning to veganism:
Joyful Vegan: Colleen Patrick-Goudreau is a vegan cookbook author and writer. Her Food for Thought podcast has been incredibly helpful in navigating the social side of being vegan in a non-vegan world. She is the calm voice of reason that helps me know what to say when in a way that has the most positive impact on my relationship with others while staying true to my vegan self. She has a lot of wonderful advice, including why we shouldn't engage online or in social media, how to respond to vegan jokes, and how to know when you end and another person begins so you can be yourself without jeopardizing your relationship with others. She is truly fabulous. If you are listening to her podcast for the first time, be aware that she often spends a good amount of time in the beginning sharing e-mails and personal stories before getting into the topic at hand. If you're short on time, you may want to skip a bit into the podcast to get to the more focused content.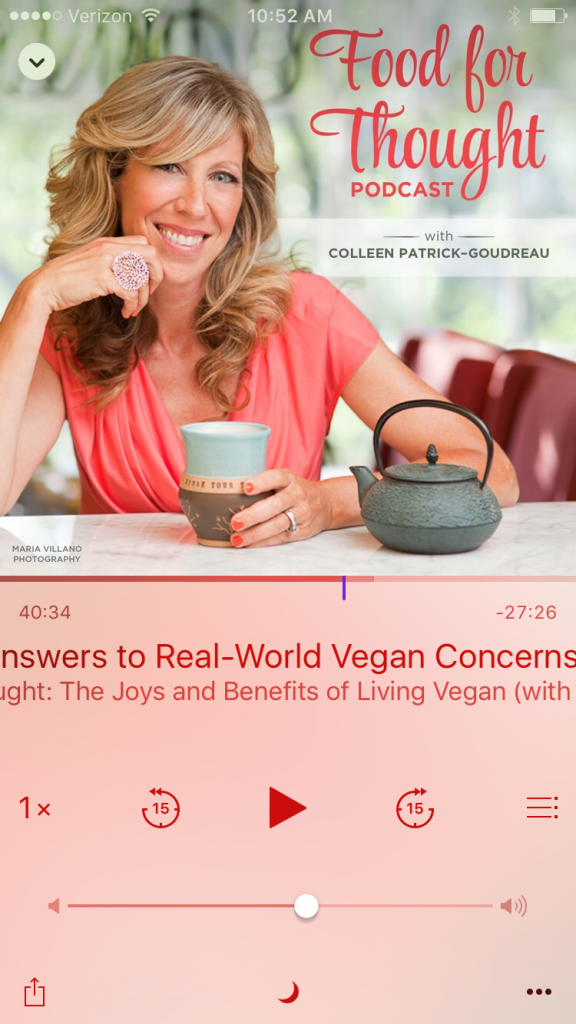 NutritionFacts.org: Have skeptics in your life?  Tired of people bombarding you with arguments about calcium and protein and expecting you to be able to cite specific research supporting your plant-based diet?  No problem.  Dr. Michael Greger M.D. has a website filled with short video clips offering summaries of the latest research on nutrition.  Every video is intelligent, cites specific studies, and is explained in a way that non-scientists (like ye old history major here) can understand.  Watch some of his videos on B-12 or let him explain to skeptics why dairy is NOT good for their health.  I could watch his videos all day, because they're engaging, research backed, and fascinating.
No Meat Athlete:  I love Matt Frazier's guide to transitioning to more plant-based eating.  It's easy to read, easy to understand, and has great information about why eating plants is the best thing a runner can do for their bodies.  His recipes aren't fussy, and he gives great information about how to fuel with whole foods and plant-based nutrition while you're on the run.  I have a No Meat Athlete shirt I like to race in, and I even got to meet him after the Heartbreak Hill Half Marathon in June!  His website is a great resource, but I absolutely recommend buying his book also.  Great information about running as well as plant-based nutrition.
Cookbooks & Food Blog recommendations from my plant-based Recipe Swap – I hosted a recipe swap to exchange resources for eating meatless meals, and got lots of cookbook suggestions and food blogs to share!  I encourage you to share your own recommendations in the comments section at the bottom of the page 🙂
The 30 Day Vegan Challenge: This book by Colleen Patrick-Goudreau walks you through the transition to veganism with more than just recipes. It tackles the challenges associated with vegan living, answers the common questions new vegans have, and is a fabulous resource for the veg-curious and vegan alike.
VegNews: Their website has lots of articles about vegetarianism and veganism, and plenty of links to helpful resources.  One of Greg's coworkers gave us one of their magazines shortly after we transitioned, and it helped remind me that I was joining a well established community who has already faced many of the difficulties of being vegan in a non-vegan world.  Just flipping through the advertisements and seeing the vegan products available gave me comfort and hope.  The articles were even better.
Forks Over Knives: the webpage has lots of recipes, there's a Forks Over Knives Cookbook, and other resources.
Engine 2 Diet: Rip Esselstyn is featured in the Forks Over Knives Documentary, and has written a book about a whole foods diet with no added oils, how to transition, and why it could save your life as well as the planet.  His page has lots of recipes and tips, including meal planning guides, and his frozen food products are available at Whole Foods.
ADAPTT.org has veg shopping guides and recipes, see the links on the lefthand side of the home page.
Vegucated has a page of helpful articles and tips here: http://www.getvegucated.com/resources/helpful-articles-tips/
Bonzai Aphrodite has a wonderful post on When Vegans Get Sick, worth reading.