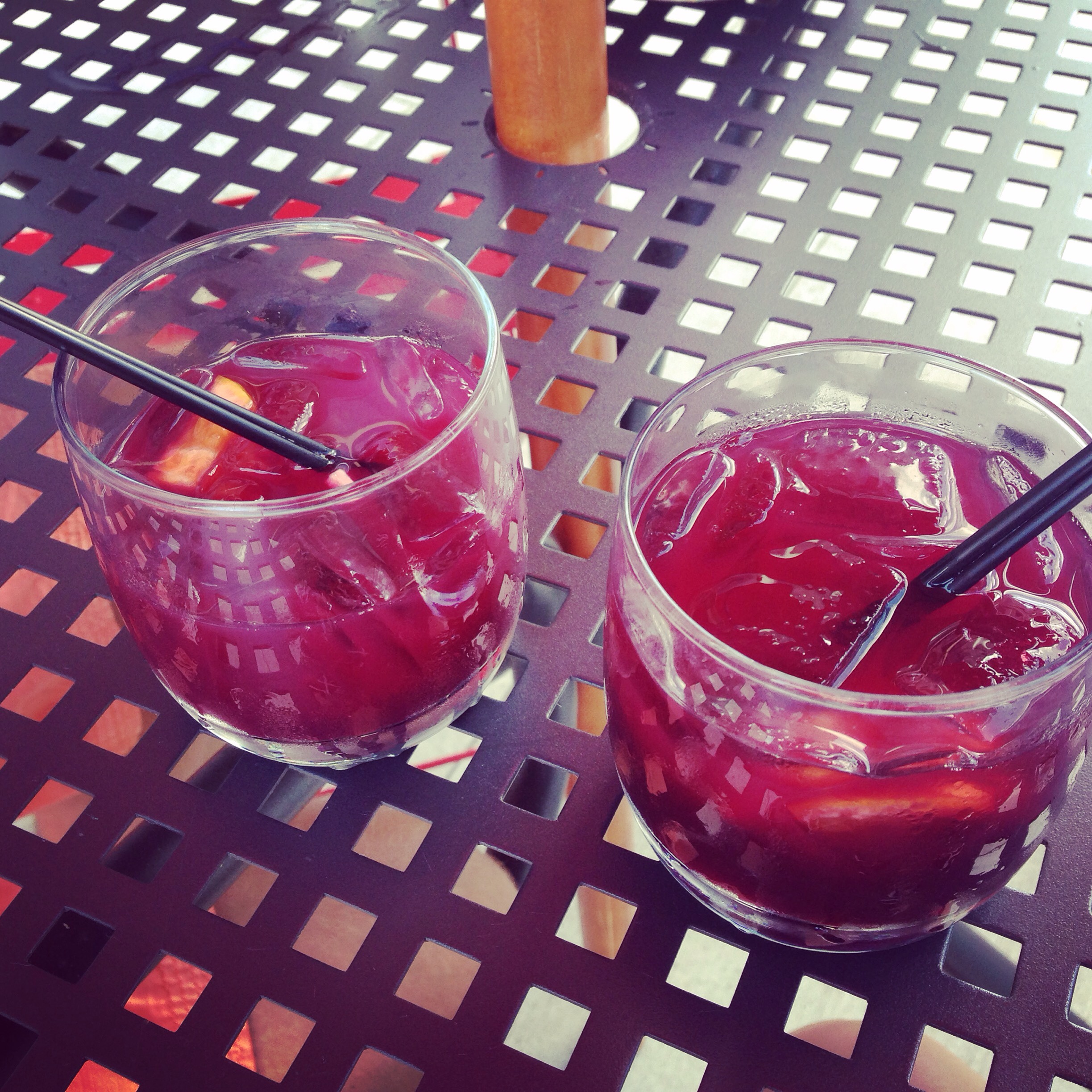 I hope you had a wonderful weekend!  I did some running, we had friends over for dinner, went to the beach, and even made it out to lunch just the two of us.  (An event worthy of the above pictured sangria.)
Running update: It's about 13 weeks until the Chilly Half Marathon on November 8th.  I'm really hoping to drop the pace for this one (9:30 goal, down from 10:01 result last year).
I really want to use my limited training time efficiently, so I hired a running coach to help.  He's an ultra-marathoner and triathlete who provides specific half marathon and marathon coaching packages, and I'd enjoyed his spin class.
My first session with him was last week.  We talked for a few minutes, I caught him up to date about what I'd done over the summer (not as much as I'd hoped, but hey, lots of paddle boarding) and then we did 50 minutes of circuit training and he gave me a running plan for the upcoming week.
What's circuit training? I did small sets of exercises (45 seconds of high knees, 250 meters of rowing, 45 second plank, etc.) and would cycle through a group of 3 exercises 3 times total, then move on to another set of exercises.
Result: I worked hard and felt fantastic… until the next day.  I was in so much pain for two days that I couldn't run.  The third day, I got a shard of glass stuck in my foot and didn't run.  I finally ran on Saturday (already 10 miles behind for the week).  I had, by then, gotten the glass out of my foot… but my muscles still weren't back to normal.  I averaged 12 minute miles for my 6 mile run (so glad I finally put the watch back on so we could track my summer "progress") and took today off instead of doing my prescribed 3 mile recovery run.

Whoops. I probably should have been more clear that while I had been enthusiastically working on my push ups in Maine, I hadn't done the full sets of 50s twice a week as prescribed.  That may have gotten lost in our discussion, along with the fact that I've never done any sort of regular strength training.  Coaches aren't mind readers.  I said "I did a lot of paddle boarding and not enough running."  That's not the same as "And I did the fun part of the 50s and only half as often as you advised."  And, honestly, except for the last sets of high knees and jumping jacks, I didn't have much indication at the time that I was working too hard.  Perhaps a little over-exerting is a necessary part of figuring out where you're at.
Going forward: Now I have to go in on Tuesday and tell Jake that I missed four out of 5 runs this week, and that we're not at ground zero for this training plan, we're at below zero.  I'm not a fan of admitting I didn't do what I was supposed to do because I'm not fit enough to make it through 50 minutes of circuit training and still run the next day.
But there's still time.  This moves me one step closer to figuring out what level of strength training is just enough to get benefits and not so much it jeopardizes my running.  And it gives me added incentive to do better in pre-season training in the future.  It's not just about the half marathon training, it's about being ready to start!  (There's a reason many beginner plans are 16 weeks, whereas more intermediate plans might be 12.  You need to ramp up!)
On the plus side, I had a great weekend, I did make it out for a relaxing 6 mile run, and I've got 13 weeks.  I know first hand how much can change in 13 weeks.